'I liked the idea of making music accessible to all'
Samantha Coe, 25, lives in Norwich and opened The Wharf music academy in November 2009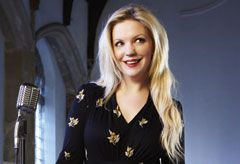 Samantha Coe, 25, lives in Norwich and opened The Wharf music academy in November 2009
'I could play piano, clarinet, saxophone and even the mandolin, but at 21 I found myself working in an admin job where I spent most of the time watching the clock.
'After leaving school, I'd even played guitar in a support band for Take That. I loved it, but the band broke up and I had to take the admin job.
'It was on one particularly boring Friday that I first thought about starting a music school. I liked the idea of making music accessible to all, and saw myself teaching everyone from toddlers to pensioners.
'Within three months, I'd written a business plan and spent £5,000 of savings on a deposit on a rented hall, as well as instruments, a computer and books. I even found myself rereading my A-level business studies notes!
'As the launch date approached, I began to feel nervous. What if it didn't work? But Norwich is a small city and word spread.
'Within three months we were booked out, and by the end of the first year, I'd had to recruit six other part-time tutors. Now we have 70 students.
'Of course, there were challenges. In November 2010 the academy was vandalised and flooded. We lost everything. But we'd nearly reached capacity and the experience forced me to search for new premises.
'Now we're moving into an old church, which is beautiful and ten times bigger. I sang one note as I walked in and the acoustics were perfect.
'Until I won this award, I'd never taken stock of how much I've achieved. I guess I've been too busy. Those afternoons of feeling bored seem like a long time ago.'
Samantha's Tips
ASK FOR ADVICE: 'You'll be surprised how willing people are to help.'
HAVE FINANCIAL RESERVES: 'I kept about £2,000 in the bank just in case. The insurance company didn't pay out for four months after the break-in so it helped me pay for equipment.'
Samantha won the Artemis Award for under 25's (thewharfacademy.co.uk) at the NatWest everywoman Awards.
Celebrity news, beauty, fashion advice, and fascinating features, delivered straight to your inbox!