Thailand travel warning issued amid fears of unrest
An urgent Thailand travel warning has been issued amid fears of unrest in the country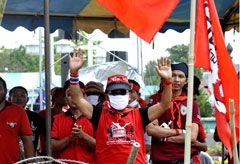 (Image credit: Rex Features)
An urgent Thailand travel warning has been issued amid fears of unrest in the country
An urgent Thailand travel warning has been issued amid fears of great unrest in the country.
Just last week the Government advised that Britons should avoid 'all but essential travel' to the capitol, Bangkok.
But now officials have extended their Thailand travel warning to the whole country over fears that violence could break out at any time.
The foreign office urged British nationals to 'continue to exercise extreme caution throughout the country and avoid demonstrations and large gatherings.'
The recently released statement cited the situation as 'volatile', and suggested anyone planning to travel to the country should check travel advice first.
'This advice reflects the increasing tension in Thailand and our concern that violent incidents of an unpredictable nature are occurring in many parts of Thailand,' the statement read.
'The situation is volatile and we recommend that British nationals in Thailand or planning to travel to the country check the travel advice on the embassy website regularly for details of further developments.'
This follows a series of explosions in Bangkok's business district, which left many injured.
The unrest comes after Thailand has seen growing tensions between anti-government protestors and security forces.
At least 26 people have been killed, with many more wounded in clashes, and 'substantial numbers of troops' have been deployed in Bangkok today.
And officials are now worried the violent outbursts could spread to other parts of the county, affecting those holidaying in Thailand's popular tourist destinations.
Do you know someone affected by the troubles in Thailand? Let us know in the comments box below.
Celebrity news, beauty, fashion advice, and fascinating features, delivered straight to your inbox!