Easy Escapes: The Maldives
Had enough of January gloom? Then grab some winter sunshine in these paradise islands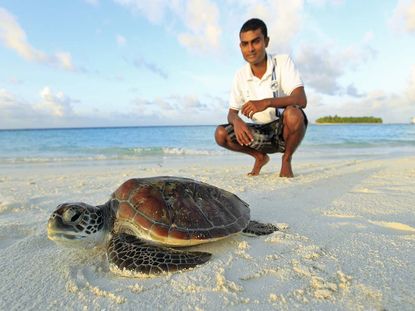 (Image credit: Felix Hug)
Had enough of January gloom? Then grab some winter sunshine in these paradise islands
Had enough of January gloom? Then grab some winter sunshine in these paradise islands
Why go? The perfect place to switch off and forget completely about the daily hustle, you're unlikely to see a single car let alone a traffic jam in the Maldives. The islanders get around on speedboats and seaplanes and, aside from in the capital, Malé, buildings rarely amount to more than a single level. With natural thatched roofs that blend into their tropical surroundings, plus clear turquoise water and pure white sand, nearly every vista is serene, remote and blissful. When the sun's shining, the Maldives really is as good as it sounds.
Get that shell suit: turtles are welcome guests on Vabbinfaru Island
When? December through to April is peak season making it the ideal spot for some winter sun (the Beckhams visit every year for their post-Christmas getaway). Averaging between 26°C and 30°C, the temperature is comfortably warm rather than unbearably hot; from May to November the weather is more temperamental.
Stay at: 20 minutes by speedboat from the airport, the five-star Banyan Tree Vabbinfaru (banyantree.com) is situated in North Malé Atoll. Despite the convenience of the location, it feels completely remote, a perfect desert island that takes about 15 minutes to walk around. With gorgeous décor, an award-winning spa and brilliantly designed semi-outdoor bathrooms, this well-established resort is nothing short of exceptional. Each of the 48 villas has its own pool and jacuzzi in a private 'front' garden, with panoramic French doors that open out onto your personal beach terrace at the back. Waking up here in your luxe four-poster bed with the sea view at your toes, you'll feel more than a little bit smug about leaving reality behind. Banyan Tree Vabbinfaru has three villa categories - an Ocean-View Villa costs £1,018 per night if booked 60 days in advance, room only.
Winter sun Maldives-style: a Beachfront Pool Villa at Banyan Tree Vabbinfaru
Never slept right above the ocean before? Then Angsana Velavaru (angsana.com) is the place to do it. Arriving in this five-star resort's jewel-like lagoon by seaplane (the landing is honestly smoother than most commercial flights) it's difficult to decide which visual feast to take in first. Set on a larger island than Vabbinfaru in the South Nilandhe Atoll (40 minutes from Malé airport), there are 112 rooms to choose from including 34 stunning InOcean Pool Villas. These are set on stilts and come with a private infinity pool, mini-jetty and rooftop sala. As the little-sister brand to Banyan Tree, Angsana Velavaru offers a more contemporary adventure – there are 101 activities to try from sea kayaking to water polo, plus three different restaurants and a bar with karaoke suites. The awe-inspiring location is romantic, sure, but when many of the InOcean villas sleep up to four people, there's nothing to stop you booking in with a party of friends. Angsana Velavaru has eight villa categories – a Beachfront Villa costs from £351 per night, an InOcean villa from £1,194, room only.
Brighten my day: a Beachfront Villa at Angsana Velavaru
You really must... Go snorkelling. The clear, warm water is rich with colourful marine life so it pays to go with a guide and learn about what you can see. Environmental conservation is an essential part of daily life in the Maldives and both resorts maintain their respective house reefs for guests' enjoyment, but also to protect their vulnerable location. At Banyan Tree Vabbinfaru you can attend a free talk about reef formation with the resident marine biologist which includes a briefing on what sights to expect; a guided snorkelling tour costs £31. Angsana Velavaru also runs a free coral planting and reef 'clean up' session once a month, with a competition to catch the greatest number of predatory pin-cushion starfish. If you're into diving, consider staying at the tiny Angsana Ihuru Island Resort (angsana.com), also in North Malé Atoll, where there is a shipwreck to explore.
Relax at: The Banyan Tree brands are renown for their world-class spas, with an acclaimed therapist training school in Phuket, Thailand, to ensure every resort offers an outstanding experience. Both spas use native ingredients whenever possible – ask about Vabbinfaru's traditional island healing packages (which use avocado body conditioner and red rice scrub) or indulge in each resort's namesake full body massage (£179 for 90 minutes at Vabbinfaru, £124 at Angsana Velavaru). Set in outdoor garden treatment 'rooms' with a 30 minute foot bath and herbal tea drink free with each massage, it's the perfect way to unwind.
Temperature okay? Slip into bliss in the jet pool at Angsana Velavaru
Dine at: The cuisine at both house restaurants is superb, but there are also lots of special dining experiences to be had. Try an under-the-stars beach barbecue (from £85 per person at Angsana Velavaru), a candlelit jetty feast, or a banquet on board the spectacular Vabbinfaru 'Velaa' yacht (£132) for a really unforgettable dinner accompanied by Maldivian drummers and dancers. Being whisked away to a tiny sandbank in the middle of the sea for a pop-up breakfast was also a personal highlight and made me appreciate how beautiful and fragile this part of the world really is.
Like to know exactly where your food comes from? Eat your own catch, barbecued by the head chef, of course, after reeling it in on one of Angsana Velavaru's sunset fishing trips (£50 per person for two hours). Having never fished before I'd expected to catch, at best, a slither of a minnow, but was amazed that just throwing a hand-line into the teaming Indian Ocean brought up huge snappers and monstrous puffer fish. In short, even amateurs will feel like pros and absolutely no one will go hungry.
Light my fire: dinner on the beach at Angsana Velavaru
Bring home: Hundreds of Instagram-worthy pictures and a restored faith in the beauty of the planet.
Book now: British Airways (ba.com) flies direct from London Gatwick to Malé; alternative routes from the UK are via Dubai with Emirates (emirates.com) and Colombo with SriLankan Airlines (srilankan.com). Kuoni (01306 747008; kuoni.co.uk) offers a wide choice of packages - five nights at Banyan Tree Vabbinfaru costs from £2,469 per person, based on two sharing, including flights with SriLankan Airlines, transfers and full board.
Info: Maldives (£14.99; Lonely Planet) covers the islands while Gatecrashing Paradise: Misadventures in the Real Maldives (£10.99; Nicholas Brealey) is an entertaining travelogue that visits the corners most tourists never see. Useful websites are visitmaldives.com and sevenholidays.com.
Celebrity news, beauty, fashion advice, and fascinating features, delivered straight to your inbox!