Dubai: 6 Reasons Why It's Our New Holiday Hotspot
6 reasons why you must visit Dubai in 2016, and it's not just for its year-round sunshine and the best hotels in the world...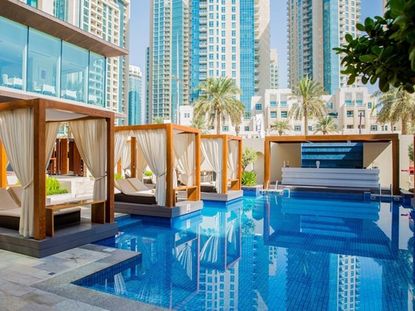 (Image credit: Vida Downtown Dubai)
6 reasons why you must visit Dubai in 2016, and it's not just for its year-round sunshine and the best hotels in the world...
The little fishing village on the edge of the desert has become a holiday hotspot, and with 2016 fast approaching we break down why Dubai should be on your list of places to visit
1. The New Place To Stay In Dubai...
The hip and happening Downtown area is where we like to lay our head and Vida Downtown is our go-to spot to stay. This area is famous for its business roots but is fast becoming the place to be as savvy locals like the buzzing atmosphere with the famous souks, the Burj Khalifa and the Dubai Fountains all a short walk away.
If you like the idea of a boutique-style hotel, where the team know your name and you don't have a fight to secure a cabana by the pool (yes, that's right and they're four-poster bed-style), then Vida Downtown should be right up your street. The 156 rooms are all decorated in an elegant neutral decor, read very Instagram-worthy, and there's four restaurants to choose from. Top tip: the breakfast is worth getting up for, with its novel milk bottle and paper bag idea it not only looks cute but tastes delicious. Last but not least, the famous Dubai brunch. Where other hotels go all out on bottomless drinks, Vida offers a super-chic picnic-style brunch which doesn't disappoint.
2. The Old Town Is Having A Moment...
It's not all high-rise hotels and shiny surfaces. If you want to see the real Dubai head to the Bastakia Quarter – the renamed Al Fahidi Historical Neighbourhood in between Dubai Creek and the buzzing Bur Dubai district is one of the oldest neighbourhoods in town. Think a mini-maze of wind towers and old buildings in camel sandy shades. For an authentic trip into the heart of Dubai start off at the Dubai Museum, part of a warren of small buildings and end up in the super cool art gallery and hotel XVA, full of contemporary conversation-starting pieces. Stop off in their colourful tree-lined courtyard cafe for a mint tea and healthy lunch, then pop into the concept store which gives any London or NYC famous store a run for their money. Walk your way back along the Creek and finish in the souk. If you're after an interior makeover then look no further than the traditional Afghan fabrics for something to bring home.
3. Hello Desert...
If you like the idea of getting out of the city and into the Arabian desert, straight into the lap of luxury at Rixos Bab Al Bahr, then fasten your seatbelt. Try Ras Al-Khaimah or RAK as those in the know call it, the up-and-coming emirate at the northern tip of the UAE. Just one-hour drive out of the hustle and bustle of Dubai and you're met with unspoiled golden deserts and rugged mountains by the coast. If that doesn't grab you enough maybe their all-inclusive offer will, and the popular resort boasts over 650 rooms. Yes, you're daily mojito is included, plus over 14 dining options – we say do book ahead on the à-la-carte restaurants, and for a special occasion the Aja Asian restaurant is a must. If after all that eating you need a little exercise, get involved in the daily yoga, beach volleyball or personal gym session. With a Turkish influence felt all over the hotel, don't leave without ticking off the spa. The biggest in RAK, try the traditional Turkish hammam at the start of your holiday for a deep cleansing scrub to totally prepare your body for the sun. Hello tan!
4. Hit Up The Beach...
Who doesn't want to sit cocktail in hand while on holiday? If this sounds like you then try the private beaches at the many hotels – we rate the One & Only Royal Mirage in the Marina . But if you crave more atmosphere and you would rather get down with the locals, try out Sheikh Hamdan also known as Kite Beach, with cool little coffee shops along the shore or you guessed it kite-surfing. But also more recently you will find the SALT burger van, one of the Dubai's most sought after food trucks. Yum.
5. The Only Way To Shop...
With a shopping mall on every corner in Dubai, you won't be short of space to grab a sales bargain or maybe a designer splurge if that takes your fancy. But the real way to shop in Dubai is at the many pop-up markets – our favourite is Ripe Market, which started off as a place to stock up on fresh organic groceries and has now grown into a hipster paradise with over 100 businesses selling handmade art, jewellery and craft stalls, live music and the best food trucks in town. 6. When The Party Hits Dubai...
Yes you can party in Dubai, it's a Muslim state but alcohol still flows freely, well in the confines of a hotel that is. But with over 550 hotels here you won't go short of places to let loose. For a true feel of the city nightlife it's actually all about the daytime vibes, the famous champagne brunches aren't going away for 2016. Friday is the day to celebrate as it's the first day of the Arabic weekend which means the day to brunch, naturally. Don't be surprised to see these all-day drinking and eating affairs turn into dancing on the table kinda nights. To join in with the beautiful crowd, look no further than Blue Marlin UAE, the famous Ibiza Beach club brings its musical bounty to the Dubai beaches from September to April. We are sold.
Book now: Dubai is served by 175 direct flights per week from the UK and Ireland. Flight time is about 6hrs 30mins, and there are no visa requirements for UK and Irish passport holders. Return flights from London Heathrow with Emirates (emirates.com) cost from £389.
Info: Pocket Dubai (£7.99; Lonely Planet) is a handy guide, useful websites are timeoutdubai.com and visitdubai.com.
Celebrity news, beauty, fashion advice, and fascinating features, delivered straight to your inbox!