The all-too-real emotional rollercoaster that is doing DIY
Flatpack: It isn't fun.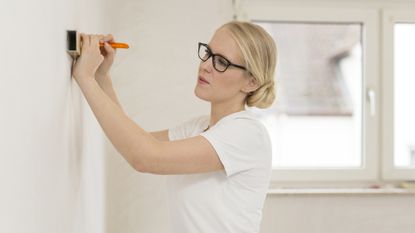 (Image credit: REX/Shutterstock)
Flatpack: It isn't fun.
There's a reason that flatpack building and general fixing stuff is an actual job that you can employ people to do for you - and it's because DIY projects can break even the strongest of us.
There's an excitement that comes from a home decor weekend where you decide that you will not be beaten by a house issue. Your tiles need grouting? Not an issue. Your doorframe needs polyfilla? Cool. You need a new wardrobe? Umm.
But no, you will not fork out a day's wage (or more) on someone to build it for you. You are independent, you are smart and you are a boss. The world of homeware is your oyster and you are totally fine. In fact, you are PUMPED.
http://giphy.com/gifs/JltOMwYmi0VrO
And then the confusion hits in. What are these smiley weird shaped IKEA illustrated people trying to tell you exactly?
http://giphy.com/gifs/kim-kardashian-keeping-up-with-the-kardashians-kuwtk-fedROfsbYZJ5u
You read and re-read the instructions but you're still like...
http://gph.is/2aNpZE9
You're trying to keep your cool but it's really hard when these words make literally no sense.
http://giphy.com/gifs/kristen-wiig-ghostbusters-melissa-mccarthy-TC3Y19Y0BuTdu
No. That screw does NOT fit in. It is not 'simple.' You need a break. No. Actually, you DESERVE a break.
http://giphy.com/gifs/bethenny-frankel-rjEsxgyHk0j5u
And, it's OK because you're going to stay positive and they wouldn't sell it as flatpack if you couldn't build it yourself. It's common sense.
http://gph.is/1ZFfnda
You've managed to complete half of it now and the world is good again.
http://giphy.com/gifs/americanidol-american-idol-xiii-idoltop5-1guRIRPEIRoM3izBroY
But this second half (the bit you've been intentionally avoiding) makes 0 sense.
http://giphy.com/gifs/nickatnite-friends-rachel-green-l2R0c7Xc0YVwAjTtS
You decide to have a mini breakdown in the comfort of your own space...
http://giphy.com/gifs/cravetvcanada-community-cravetv-l2QZWOgzaWBt4VWZW
Before calling for help because this job cannot be completed alone.
http://giphy.com/gifs/blackandsexytv-26ybvIKLuiPUQWL8A
After many a try and some teamwork, your friend/partner/colleague/grandma/dog manage to come up with a solution and you're like...
http://giphy.com/gifs/gotham-jDUcqlx13bIZi
And you start realising that wasn't that bad, after all.
http://gph.is/1aRHMGm
Until you remember the first half of this whole interaction and you decide to never go near a homeware shop again.
http://giphy.com/gifs/hulu-fox-the-mindy-project-l2Sq19fT9BPnEmCdi
(Until next time, because, you know, #interiorgoals)
Celebrity news, beauty, fashion advice, and fascinating features, delivered straight to your inbox!