Carlota Pereda: 'Body shaming is everywhere, so I wanted my film to tackle it'
Up next in our Women Who Win series is Carlota Pereda, an award-winning director and screenwriter. Her new short film, Piggy, explores the explosive consequences of body shaming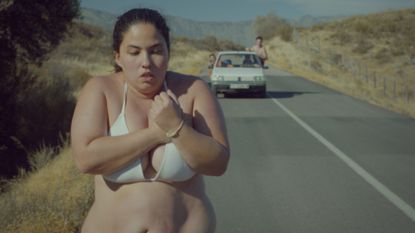 Up next in our Women Who Win series is Carlota Pereda, an award-winning director and screenwriter. Her new short film, Piggy, explores the explosive consequences of body shaming
Hell-bent on shining a spotlight on the social issues of our time through the power of cinema, Madrid-native Pereda's Piggy tells the story of a young teen who is bullied by a group of girls while trying to swim in her local pool. Cruelly targeted for her weight, Sarah has her clothes stolen and embarks on a mortifying journey home that she'll never forget.
The 14-minute long film, in which 65% of the cast and crew are female, has won more than 50 prestigious awards. Such accolades include the high-profile Goya award and Best European Independent Film at the 2019 ÉCU. We caught up with the Director to learn more about her inspiration behind the film...
'I don't like the world my daughter is growing up in'
Everything seems to be about body image and social media. I got the idea for making Piggy after visiting my local pool. I spotted this kid who was always alone, and I realised it was because she didn't want her peers to see her in a bathing suit. Body shaming happens everywhere, so I decided to tell a story about it.
'People act when they're moved emotionally'
I wanted to show that if you don't break the cycle of violence caused by bullying, it will go on forever. Cinema has the ability to reach a bigger audience and get people more emotionally involved. Piggy has brought up a lot of debate, and I'm proud of that.
'I've always wanted to tell my own stories'
I wanted to be a director but I come from a family of lawyers who didn't support my ambition. I went to law school, and studied law in the morning and cinema in the evening. Finally, I told my family I was going to give up law and become a director. I started working in TV as a screenwriter, then moved behind the camera.
Carlota's next short film, 'There Will be Monsters', is out in December.
Celebrity news, beauty, fashion advice, and fascinating features, delivered straight to your inbox!
Niamh McCollum is Features Assistant at Marie Claire UK, and specialises in entertainment, female empowerment, mental health, social development and careers. Tackling both news and features, she's covered everything from the rise of feminist audio porn platforms to the latest campaigns protecting human rights.
Niamh has also contributed to our Women Who Win series by interviewing ridiculously inspiring females, including forensic scientist Ruth Morgan, Labour MP Stella Creasy and ITV's former Home Affairs Editor Jennifer Nadel.
Niamh studied Law in Trinity College Dublin. It was after enrolling in a Law & Literature class on her year abroad in Toronto that her love of writing was reignited. In no particular order, her big likes are Caleb Followill, hoops, red wine, sea swimming, shakshuka and long train journeys.