New York Fashion Week FROW: See all the pics
See all he celebrity front row action from NYFW so far...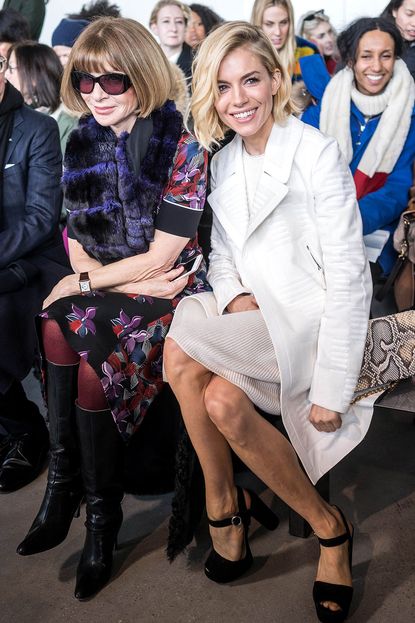 See all he celebrity front row action from NYFW so far...
New York Fashion Week is officially underway with the likes of Victoria Beckham, DKNY and Diane Von Furstenberg all showing us fashion-folk what's to come this autumn.
And as much as we love seeing all that's new in the fashion world, we're equally as excited to see those FROWers too.
From David, Harper, Brooklyn, Romeo and Cruz Beckham sat with Anna Wintour at Victoria Beckham's standout show, to baby North and Kim Kardashian at Adidas, so far it seems like quite the family affair.
Newlyweds Olivia Palermo and Joannes Huebl turned up to see what's coming up for AW15 from Tommy Hilfiger, while Katie Holmes looked simply stunning alongside Rihanna and Naomi Campbell over at Zac Posen.
Actresses Kate Hudson and Allison Williams were snapped sharing a joke as they waited for a presentation to kick off while Victoria's Secret stunner Lily Aldridge was seen waiting patiently for models to grace the runway at another.
Others to bag prime seats included Kelly Osbourne, Michelle Rodriguez and The Voice coach Rita Ora.
Showing that she's inherited sister Nicole's sense of style, Sofia Richie was a new addition to the FROW at this season's event. The petite blonde proved she'd earned her spot by piecing together a seriously chic monochrome ensemble.
Sofia - who sported a quirky plaited hairstyle - donned the gingham skirt and jacket for Diane Von Furstenburg's presentation.
Another youngster who turned heads as she dashed between shows was Abigail Breslin who shot to fame in Hollywood film Little Miss Sunshine. The actress showed her vampy side in an all-black outfit teamed with a bright slick of scarlet lipstick.
Want to see which other celebs have been out and about so far at NYFW?
Sienna Miller And Anna Wintour Front Row At New York Fashion Week AW15
We suggest you keep on clicking through our glamorous celebrity FROW round up to find out
Sienna Miller And Anna Wintour Front Row At New York Fashion Week AW15
We suggest you keep on clicking through our glamorous celebrity FROW round up to find out
Kate Hudson And Allison Williams Front Row At New York Fashion Week AW15
Lily Aldridge Front Row At New York Fashion Week AW15
Poppy Delevingne And Leigh Lezark Front Row At New York Fashion Week AW15
Hanneli Mustaparta, Poppy Delevingne, Leigh Lezark Front Row At New York Fashion Week AW15
Blake Lively Front Row At New York Fashion Week
Olivia Palermo Front Row At New York Fashion Week AW15
Alexa Chung Front Row At New York Fashion Week AW15
Katie Holmes & Naomi Campbell Front Row At New York Fashion Week AW15
Rihanna Front Row At New York Fashion Week AW15
Coco Rocha & Susan Sarandon Front Row At New York Fashion Week AW15
Katie Holmes Front Row At New York Fashion Week AW15
Christina Hendricks & Coco Rocha Front Row At New York Fashion Week AW15
Rita Ora & Rachel Zoe Front Row At New York Fashion Week AW15
Naomi Campbell Front Row At New York Fashion Week AW15
Coco Rocha Front Row At New York Fashion Week AW15
Anna Wintour Front Row At New York Fashion Week AW15
Abigail Breslin Front Row At New York Fashion Week AW15
Rachel Zoe Front Row At New York Fashion Week AW15
Christina Milian Front Row At New York Fashion Week AW15
Mary J Bleige & Rihanna Front Row At New York Fashion Week AW15
Katie Holmes Front Row At New York Fashion Week AW15
Kesha & Abigail Breslin Front Row At New York Fashion Week AW15
Diana Agron Front Row At New York Fashion Week AW15
Julia Restoin Roitfeld Front Row At New York Fashion Week AW15
David, Romeo, Brooklyn, Cruz and Harper Beckham & Anna Wintour Front Row At New York Fashion Week AW15
Olivia Palermo Front Row At New York Fashion Week AW15
Kim Kardashian & Kanye West Front Row At New York Fashion Week AW15
Jessica Hart Front Row At New York Fashion Week AW15
Amber Le Bon Front Row At New York Fashion Week AW15
Anna Wintour & Bee Shaffer Front Row At New York Fashion Week AW15
Victoria Justice Front Row At New York Fashion Week AW15
Rachel Zoe Front Row At New York Fashion Week AW15
Lily Aldridge Front Row At New York Fashion Week AW15
Jenna Lyons Front Row At New York Fashion Week AW15
Chelsea Layland Front Row At New York Fashion Week AW15
Kelly Osbourne Front Row At New York Fashion Week AW15