The best celebrity #TBT pics, ever
Who doesn't love a good #TBT? We look back - literally - at the best of the celebrity throwbacks. The ones that made us LOL, aww, and miss the good 'ol days...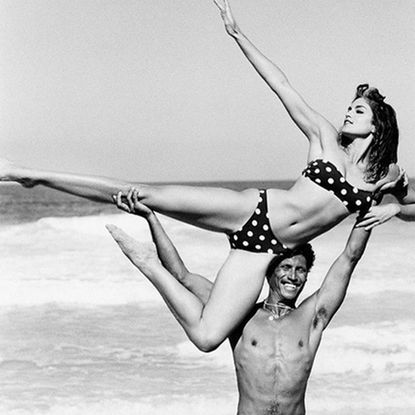 Who doesn't love a good #TBT? We look back - literally - at the best of the celebrity throwbacks. The ones that made us LOL, aww, and miss the good 'ol days...
We love a good celebrity throwback picture. You can say what you like about social media and the modern world's supposed addiction but our favourite social platforms have given us a great many things - not least, the celebrity #TBTs.
Yes #ThrowbackThursday, #TBT, #FlashbackFriday or #FBF - if you will - have meant that some of the most marvellous images of the A-List have been unearthed deep from within the archives: From the stars' first time on a film set, to their family photos to their hilarious reactions now to past fashion faux pas, #TBT is the hashtag that keeps on giving.
There's also more than a spattering of awkward school photos (hey, we've all been there), through a few unbelievably uncoordinated fashion trends to seeing future A-listers meet their besties for the first time - a picture really does say a thousand words and takes us right back to times gone by.
Indeed, when celebrating Kate Moss' 42nd birthday, her longtime pal Sadie Frost took to Instagram - as you do in 2016, right? - posting a photo wishing Kate a happy birthday and nodding to some of their best images from the 90s.
Or what about Eva Mendes' throwback to her cameo in Will Smith's Miami music video? How else would we remember that the Hitch co-stars previously worked together - in a music video, no less.
And let us not forget the baby photos. It seems the celebs can't stop themselves from posting the awkward, hilarious and downright A-dorable throwbacks to their childhood, usually poking fun at their lack of fashion savvy or uncontrollable facial expressions (we're looking at you Taylor Swift).
Since we can't get enough of these fabulous blasts from the pasts, we've rounded up the very best of celebrity #TBTs, #FBFs and generally great throwback Instas...
Chris Pratt
You might not be able to tell, but this adorable picture is in fact Passengers star Chris Pratt. Ever the joker, he wrote: 'Here a young Chris Pratt poses on the red carpet wearing designer bunny ears and blue vest by Goodwill of America.'
Orlando Bloom
To mark the 15th anniversary of The Lord of the Rings, Orlando shared this photo fro the film's set with co-star Viggo Mortensen. He wrote: '#TheLordOfTheRings: The Fellowship of the Ring hit theaters 15 years ago today. here's one of #ViggoMortensen and me.' Hard to believe it's been that long, isn't it?
Nicole Kidman
This amazing 1983 Australian magazine cover, unearthed on the Graham Norton Show, shows Nicole Kidman with her signature red curls as a then 14-year-old.
Miranda Kerr
Miranda Kerr's mum, Therese, recently uploaded this super cute 'blast from the past' pic of Miranda and her brother. SO adorable.
Sarah Michelle Gellar
In honour of Thanksgiving, Sarah Michelle Gellar shared the *sweetest* picture of her and Freddie Prinze Jr.'s first Thanksgiving. She captioned it: '#throwbackthursday and #thanksgiving all in one. This was our first Thanksgiving, and while we had a lot to be grateful for on that day, it doesn't compare to all that we have now. I try very hard to be grateful and appreciative all year, but it doesn't hurt to have one dedicated day. #grateful #happythanksgiving.' Awwwww, you guys.
Gigi Hadid & Bella Hadid & Family
Gigi Hadid's mother Yolanda Foster shared possibly the cutest throwback picture in early November 2017 of her family, daughters Gigi and Bella and son Anwar when the three were toddlers. How cute is this!?
Sophie Turner
First up, Game of Thrones star Sophie Turner posted this #TBT to the Emmys with co-star Kit Harington. Looking good, guys.
Kourtney Kardashian
Kourtney Kardashian uploaded this sweet Halloween picture of her and Kim. How much do they look like North and Penelope?
Taylor Swift
Can you believe that it's been 10 whole years since Taylor Swift released her first album? She posted this picture to mark the anniversary, writing: 'I couldn't be more grateful today, thinking back on how much fun we've had and how you've encouraged me to change and grow. It's been such an adventure, guys. Thank you for all of it.'
Blake Lively
Blake Lively shared a throwback snap of her earlier cheerleading days alongside the caption, 'I've always been impressively athletic...'
Lucy Hale
This super sweet Princess Jasmine is actually Pretty Little Liars' Lucy Hale - SO cute.
Kendall and Kylie Jenner
Kim Kardashian West
First up, we have Kim Kardashian West, who uploaded this adorable throwback picture to Instgram in honour of her her grandma MJ's birthday - how much does Kris look like her mum?! Kim captioned the photo, 'Happy Birthday to the most amazing grandma in the world! I love you so much words can't even explain!' Super cute.
Candace Swanepoel
Here we have Victoria's Secret Angel, Candace Swanepoel, who uploaded this cute picture of her and her brother to Instagram with the caption: 'Brother and I dressed for success'.

Khloe Kardashian
Here's Khloe Kardashian, who celebrated her birthday at the end of June. Mum Kris posted this photo to her Instagram for Khloe's birthday, including in her caption: 'You are the most beautiful girl inside and out. You are the light of our family through thick and thin and are the strongest woman I have ever known.' So lovely!
David Beckham
Here's David Beckham, who posted this lovely snap of him and his mum for her birthday (awwwww).

Gisele
Next it's Gisele, who recently posted this baby photo to Instagram with the caption: 'My face when things don't turn out how I planned...' Adorable.

Gigi and Anwar Hadid
Gigi posted this super-cute picture to Twitter on baby brother Anwar's 17th birthday in June. How sweet are they?

Ben Affleck
Ben Affleck posted an adorable throwback in honour of bestie Matt Damon, captioning a collage of one of Matt's past birthday parties with 'This guy. #NationalBestFriendsDay'. Awww, #BFFGoals

Lindsay Lohan
Lindsay Lohan gave this epic throwback to her The Parent Trap days, as she visited the same London house where she filmed her scenes in when she was a bab. She wrote, 'A trip down memory lane #sundayfunday #theparenttrapmovie "Annie's house" but it was number 7 in the movie'.
Cindy Crawford
Cindy Crawford posted this stunning black and white #throwback to her modelling days, writing '#TBT It's starting to feel a lot like summer! @PatrickDemarchelier'

Hugh Jackman
Hugh Jackman gave a hilarious throwback to his school days, wishing this year's graduates a happy graduation. The Wolverine actor wrote 'Congrats To The Graduating Class Of 2016! #throwbackthursdays'

Kendall Jenner
Kendall Jenner shared this super-sweet snap on Instagram with the caption 'swimming back to America like'.

Gigi & Bella Hadid
Ever the proud mother, Yolanda Hadid shared this throwback with her three children Gigi, Bella and Anwar with the caption '❤️TBT My greatest accomplishment in life....... #Motherhood #Gratitude #UnconditionalLove @gigihadid @bellahadid @anwarhadid'.

Jessica Chastain
Jessica Chastain similarly gave a nod to her younger days, writing on this pic, 'Oh to be 9 and awkward.'

Cindy Crawford
Cindy Crawford who posted this Instagram snap with the caption '#TBT Way back! 1983 @EliteNYC model look competition in Acapulco.'

Alexa Chung
Alexa Chung who threw it back to her former modelling days, sharing this Instagram snap of a David Titlow shoot as a fresh faced 19-year-old.
Kate Beckinsale & Michael Sheen
Kate Beckinsale made us all nostalgic for the past, posting this side-by-side comparison of when she just gave birth to daughter Lily, with a present day recreation of the photo. Ex-boyfriend Michael Sheen even joined in on the fun, sporting a bushy beard. Kate wrote, 'Always a baby to me #Lily -- See more tonight on the @latelateshow'

Sarah Michelle Gellar
Sarah Michelle Gellar gave us the ultimate throwback, with a slew of pics from her Buffy days. Wishing her former co-star (and on-screen lover) David Boreanaz a happy birthday, Sarah wrote, 'When you hear it's someone's birthday, and you realize how long you have known them #happybirthday David Immortality looks good on you #davidboreanaz @dbdbo69'
Kylie Jenner
Kylie Jenner got sentimental ahead of Mother's Day, posting this throwback snap with her mum Kris Jenner to her website, captioning the cute pic 'I have the best mom in the world! Kris Jenner is such a strong and generous woman and I have learned so much from her.'

That '70s Show Cast
The former cast of That '70s Show posed for a photo on the set of their new show, The Ranch. The snap was shared by Danny Masterson on Instagram, and sees Mila Kunis, Ashton Kutcher, Wilmer Valderramma and Laura Prepon hanging out, just like old times.
Kim Kardashian and Kourtney Kardashian
Kim Kardashian celebrated her older sis, Kourtney's birthday with this adorable throwback, writing 'Happy Birthday @kourtneykardash Thank you for always doing everything first so I can copy you! I don't know what I would do without you! I love you! Happy Birthday!'

Kendall Jenner
Kendall Jenner posted this incredible throwback when she worked the sportiest crop cut we've ever seen. Holding onto her younger sister Kylie in the snap, Kendall captioned the photo as any of us would, writing 'whyyyyy mom?!'

Kylie Jenner
Kris Jenner posted this Insta, giving us some major throwback to Kylie Jenner as a little tot - just look at that E.T. toy! Kris wrote, 'My little @kyliejenner!! Feels like just yesterday!! #wheredoesthetimego #proudmama #familytime (Kylie Snapchat: kylizzlemynizzle)'

Britney Spears and Leonardo DiCaprio
Britney Spears posted this very turn-of-the-noughties throwback featuring none other than Leonardo DiCaprio (who has contorted his fingers in to the 'West Coast' sign, we believe). Throwback gold.

Emily Ratajkowski
Emily Ratajkowski posted this throwback snap to when she was a tot, writing 'Baby me and baby kitty.' Adorbs.

Kylie Jenner
The Kardashian-Jenners love their throwbacks, as Kylie posted yet another one of her and model big sis Kendall as they sleep in washing baskets of all places. Ah, to be young again...

Kendall Jenner