3 need-to-knows about your hormones we bet you didn't know
In partnership with Vichy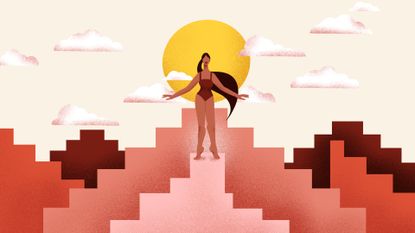 (Image credit: Future)
Hormones are complicated. They affect everything from our periods to our competitive urges, our physical and mental changes around pregnancy, and, of course, the menopause.
But what actually happens to our hormones during menopause? And what's the essential need-to-know information? "During perimenopause our ovaries start to produce less of our female sex hormones: oestrogen and progesterone," explains menopause doctor, co-author of The Peri-menopause Solution and Harper Clinic founder Dr Shahzadi Harper (also known as The Perimenopause Doctor). "Our hormone levels start to fluctuate but continue to trend downwards until we get to menopause when the ovaries stop producing hormones and that's when menstruation stops."
Lack of understanding when it comes to perimenopause and menopause – and the effect our hormones can have on our bodies – is rife. Dr Harper wants to cut through the confusion and make menopause a much simpler and better-understood process. Here, we caught up with her to find out what you really need to know about the menopause and your hormones. Here's her straight-talking, no-nonsense, evidenced-based advice…
3 need-to-knows about your hormones
1. Hormones can start to change sooner than you think
Surprise, the menopause isn't just limited to older women with grey hair. "Perimenopause is often misunderstood because menopause is used as an umbrella term for everything," explains Dr Harper. "The one thing that I wish everybody understood about their hormones is that they can start to change sooner than you think."
In the UK, the average age of menopause is 51, while the average age of perimenopause is 47.5. Of course, it's completely different for everyone – and while rare (only 5%), some women can experience early menopause (before the age of 45). If your periods start to get irregular before the age of 40 or they stop completely before the age of 45, it's worth going to your doctor, advises Dr Harper.
"I often say if you don't feel like yourself or if you've noticed a change in your periods – it can just be as simple as your cycle length is shorter, going from 28-30 down to 26 days – then that could be the beginning of perimenopause," she says.
2. There's no one-size-fits-all perimenopause
"There's no one-size-fits-all set of symptoms that define perimenopause," writes Dr Harper in The Peri-menopause Solution. "It's a combination. And if your blood test comes back normal, you might think you can't possibly be in perimenopause. What you need to know is this: it's not about the numbers; it's about how you feel".
The most common symptoms caused by hormones, and the reduction in oestrogen, are changes to our periods, she explains. But perimenopausal symptoms aren't just limited to physical symptoms like hot flushes and night sweats – vasomotor symptoms – "there are also psychological symptoms that have less awareness such as anxiety, low mood, feelings of overwhelm," she says. "It's also important to note symptoms like vaginal dryness and how the drop in oestrogen can affect our skin and hair."
While you may hear that there are 34 symptoms of perimenopause to look out for, there are often a lot more. "The challenge is joining the dots of those symptoms together to discover you don't just feel tired, or flat, or overweight, in isolation. They're all connected."
3. You have the power
"Although perimenopause is a natural process, you do not have to put up with everything it throws at you," says Dr Harper.
By educating yourself and being aware of your symptoms you can make easy lifestyle adjustments to take control of your hormones.
"Having a nutritious diet and healthy lifestyle can help to improve hormonal health and balance," she says. "Regular exercise can affect your hormones by improving blood flow and circulation to your brain, heart, and muscles and triggers the release of happy neurotransmitters that will help to reduce anxiety and boost mood. While ensuring that you have a diet with plenty of vegetables (such as dark greens, including broccoli and kale), fruit and omega three oil, will help to aid metabolism, manage your appetite, reduce stress levels and provide energy."
Her key message? "Take control of your perimenopause, don't let it take control of you."
Discover Vichy Neovadiol Skincare for Perimenopause & Menopause at Boots & your local pharmacy. For symptom guidance and support speak to your GP or pharmacist.
Celebrity news, beauty, fashion advice, and fascinating features, delivered straight to your inbox!
Alice is a contributing lifestyle journalist with over seven years of industry experience and has worked for the likes of The Telegraph, The Independent, Women's Health, Stylist, Glamour, Grazia, Glorious Sport and more. Specialising in health and fitness, Alice covers everything from the latest product launches to interviewing some of the most inspiring female sports stars of our time.