Put your best foot forward and save women's lives
A new campaign called In Her Shoes has been launched to raise funds for lifesaving healthcare in some of the world's poorest countries. Sign up for one of its sponsored walks today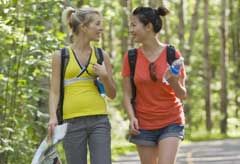 (Image credit: Rex Features)
A new campaign called In Her Shoes has been launched to raise funds for lifesaving healthcare in some of the world's poorest countries. Sign up for one of its sponsored walks today
The world's leading independent development charity, VSO, is calling all women who love fitness, footwear and fundraising to put their best foot forward to help raise vital funds for lifesaving healthcare in the world's poorest countries.
In Her Shoes kicks off on Sunday 15th May with a series of 5K to 10K walks designed for all abilities across the UK. It aims to raise awareness of the many women who die from pregnancy related issues every year.
VSO fundraising development manager, Jane Quayle, says: 'The impact of our health volunteers work is significant but we urgently need more funds to maintain and strengthen the flow of volunteers to where they're needed.'
Fundraising for 'In Her Shoes' will help VSO to continue to send skilled volunteers such as doctors and midwives to share their knowledge, experience and train local staff in the healthcare profession in critical roles, which would save more lives in the long term.
'Even today in Malawi, one in 18 women still dies in childbirth and in Sierra Leone it is one in eight,' says Ms Quayle. 'Every woman, regardless of where she lives in the world, should have access to good maternal health care.'
Just £36 could help VSO keep an obstetrician in Indonesia for a week, safely delivering 12 babies. £158 could send a childcare specialist to Uganda for a month and £500 could train and provide initial funds to 10 HIV+ women in Mozambique to start their own business, enabling them to support their children.
VSO needs to raise £10million each year in the UK to continue it's vital work, so why not round up your friends and family and get walking to help VSO raise it's target figure of £40,000 for vital healthcare.
Registration costs just £10 per person and each volunteer needs to raise a minimum of £100. For more information or to sign up for a walk near you, visit www.inhershoes.org.uk
CLICK HERE FOR MORE ISSUES AND CAMPAIGNS
Celebrity news, beauty, fashion advice, and fascinating features, delivered straight to your inbox!