Trust Women Conference: Putting the rule of law behind women's rights
Groundbreaking partnership aimed at raising awareness of threats to women's rights around the world announced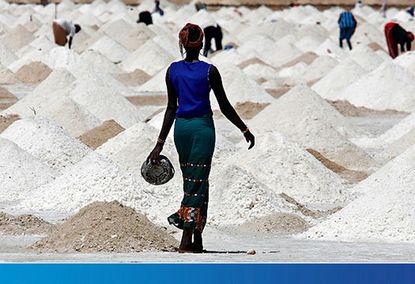 (Image credit: Trust)
Groundbreaking partnership aimed at raising awareness of threats to women's rights around the world announced
Two of the world's most high-profile news and media organizations will join forces in a groundbreaking project aimed at raising awareness of threats to women's rights around the world, and to help seek new solutions.
Thomson Reuters Foundation, the philanthropic arm of the world's biggest news and information provider, and the International Herald Tribune, the global edition of the New York Times, will hold a major international conference on women's rights, that will bring together for the first time some of the world's best minds from the fields of politics, law, finance, media and humanitarian action.
The Trust Women Conference, which aims to put the rule of law behind women's rights, will be held in London on December 4 and 5.
'In many countries, basic human rights are still systematically denied to women', explains Monique Villa, CEO of the Thomson Reuters Foundation.
'In others, egregious abuses lie just below the surface -- forced marriage, sex slavery, domestic servitude, to name just a few. We created the Trust Women organisation not just to help women know and defend their rights, but also to come up with concrete solutions to some of the biggest issues of our time. Women's rights are absolutely critical to development, social progress and human dignity.'
Speakers at the conference will include Queen Noor of Jordan, author, campaigner and ex-supermodel, Christy Turlington Burns, journalist and author Mariane Pearl, and lawyer and activist, Cherie Blair.
Organised around six themes that aim to dissect and tackle the main reasons women are often considered second class citizens, including modern-day slavery, child marriage, women and financial exclusion, and the enshrinement of women's rights in national constitutions, attendees will hear from those on the front lines as they discuss and debate the key challenges that women face in accessing their rights.
During the conference, two awards will be presented to an innovator whose bold thinking and high-impact work enables women to empower themselves, and a journalist who has made a significant contribution to the coverage of women's rights in 2012.
Marie Claire will will be Tweeting live from the conference, and you can also stay up to date on the latest by following@trustwomenconf on Twitter.
GET YOUR TICKETS TO THE TRUST WOMEN CONFERENCE HERE MORE WORLD NEWS
Celebrity news, beauty, fashion advice, and fascinating features, delivered straight to your inbox!