Sarah Brown opens up on pain of losing her baby daughter
Gordon Brown's wife Sarah has revealed that losing her baby daughter Jennifer in January 2002 changed her life forever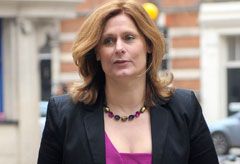 (Image credit: Rex Features)
Gordon Brown's wife Sarah has revealed that losing her baby daughter Jennifer in January 2002 changed her life forever
Sarah Brown has written an emotional personal essay detailing the immense pain and loss following the death of her daughter Jennifer, explaining that her grief has changed her forever.
The former Prime Minister Gordon Brown and his wife lost their first child in January 2002. In her profound essay, Sarah admits she found some relief in realising she did not need to mend herself after the death, nor return to the person she was before.
'I had assumed I must find a way to recover and resume my life, which proved impossible,' she says. 'Instead I realised that the loss of Jennifer had changed me forever and importantly I realised that this was OK.'
Jennifer died of a brain haemorrhage just a week after she was born prematurely on December 28 2001. Sarah revealed that forcing herself to think about Jennifer helped her cope with the tragedy.
'The overwhelming, debilitating pain that hits you from time to time does subside and, as hard as it is to go through it, you learn that you do come out the other side each time,' says Mrs Brown.
'The other thing I learned is to continually open my heart to the love I feel for my daughter, no matter how painful that can be at times. There is a temptation to put something that hurts to one side in order to cope better in daily life. Actually the reverse is true.'
The Browns have rarely spoken of their heartbreak, but the former Prime Minister broke down last February while speaking of the loss of his first child with Piers Morgan.
'It is true to say for both of us that nothing can ever be the same again,' he said after the birth of their second child John in 2003. 'Jennifer will always be part of what we are.'
The couple went on to have a son, James Fraser, in 2004 but suffered a further shock when they discovered he had a mild form of cystic fibrosis.
Sarah Brown's essay forms part of a book called The Death Of A Child. Proceeds from the book, due to be published on 1st June will go to the Child Bereavement Charity.
Celebrity news, beauty, fashion advice, and fascinating features, delivered straight to your inbox!