Four women have accused Andrew Tate of abuse. Here they tell Marie Claire UK why they are raising funds to bring him to justice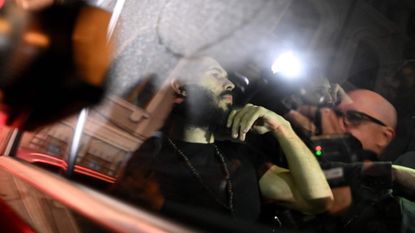 (Image credit: Getty Images)
This article contains themes of sexual assault and violence.
Whilst Andrew Tate faces charges of rape and sex trafficking in Romania, four women have made allegations of abuse and are raising the funds to reopen their case against him in the UK. Here they share their stories with Marie Claire UK.
Andrew Tate, a former kickboxer turned social media personality and self-proclaimed multi-millionaire, is facing allegations of abuse and rape from four women in the UK.
The allegations of sexual and physical abuse date back to 2013, with three of these women first coming forward between 2014 and 2015 - a case that was closed without prosecution.
Now, by bringing a civil case against the 36-year-old together, these women hope to prompt UK police to reopen their criminal investigation into Andrew Tate, calling it their "one remaining route to hold him accountable".
Tate has categorically denied claims of sexual violence made by the four women who are suing him for alleged physical assaults.
"Andrew Tate is a name most people now, unfortunately, know. Years before he was a household name, he was reported to the UK police for violent acts of rape and abuse against women", reads a statement from the four women on their Crowd Justice page, hoping to raise £50,000 for their legal action. "We know this because it was some of us that reported him.
"We handed over our evidence about the horrific acts of violence we endured and waited for action. But four years later we were told the UK authorities would not prosecute him. Instead, we had to watch as Tate was free to grow his influence online - indoctrinating thousands of boys and young men with his misogyny. He was not held accountable when we raised the alarm, so more damage has been done."
Now, having connected through the police investigation, they are sharing their stories.
"The last time I heard from Andrew was in 2015 when he threatened me outside my own home telling me 'not to fuck with his money or he would fuck with me'," one of the four alleged victims told Marie Claire UK this week.
"I received a text message just after I went to the police off an unknown number saying 'I'm batman'," another of the claimants added. "I didn't reply. I rang the police. And I never heard from him or his brother again. He would message me stuff every few months just to remind me about him. It's one of his evil tactics. He doesn't like to let us move on and forget him."
"It has been really difficult to see Andrew's rise in popularity and his influence on people, when all the while knowing what he has done to me," a third claimant told us, accusing him of being a violent and dangerous man.
A spokesperson for Tate has insisted that all sexual acts he had been involved in had been consensual and that he does not condone violence against women.
Many victims face fear, intimidation, and manipulation from their abusers, and in this case, that extends to Andrew Tate's fan base. This can make it difficult to break free from the cycle of abuse. And with added victim blaming from the wider society, it can discourage survivors from reporting abuse or seeking help.
"When Andrew first made an appearance on the internet I made a TikTok talking very briefly about my sexual assault without using his name," one of the women explained to Marie Claire UK. "Instantly I had huge amounts of men calling me a liar, saying I deserved to be raped and asking why I didn't have video evidence of my sexual assault."
Recalling the "hundreds of obscene and thoughtless responses" that prompted her to delete the video, she explained: "the negative trolling towards something so personal was hurtful, and I owe answers to no one expect for the police and the courts."
"His followers are horrible and sometimes it is really hard to ignore the hate that comes with it," another of the claimants explained. "One of his followers the other day said that we all deserved to get raped, which was upsetting. They keep saying 'oh they shouldn't be allowed to remain anonymous'. Well, this is exactly the reason why. It's just awful."
"I do wonder if it was a group of men coming forward with the same claims how it would be received, and a huge part of me thinks they would get more support and less hateful comments," one of the alleged victims concluded.
The claimants have made allegations of rape, choking, emotional abuse and scare tactics involving guns. They first came forward with these allegations between 2014 and 2015 but the CPS decided to close the investigation, believing that there was no "realistic" prospect of a conviction.
"I feel like there needs to be a reassessment of the way in which sexual offences are dealt with, and what's going to qualify for conviction and what's not," one of the claimants told Marie Claire UK. "Because something has to change. The conviction rate for rape and sexual assault is so low, something's got to give."
According to City University of London, more than 99% of rapes reported to police in the UK do not end in a conviction. Additionally, victims often face backlash and "victim blaming" from within the police force, something that is even more prevalent among sex workers.
"I felt like sometimes [the police] made me feel like I had done something wrong," one of the claimants recalled. "I remember when I was doing my police interview and I told the [female officer] that he strangled me. She said 'oh why did he do that?' and I said 'well there's no real reason to strangle someone'. [It was] as if I [had] egged him on. It was such a bizarre thing to ask me - it kind of made me feel like I had goaded him or something."
"I feel like they didn't treat us as nicely or as well as they might have done with other victims that aren't in the adult industry," one of the claimants continued, recalling police telling her, "well you kind of should expect that type of behaviour or abuse while you're in the adult industry".
Despite the backlash they have been subjected to already, the four women are determined to inspire others to speak up, telling Marie Claire UK: "It is so important - it helps all of us and it helps strengthen what we're saying".
"I'm praying more women come out, speak to the lawyers, and do something," another of the alleged victims added. "Because I know there are a hell of a lot of women out there that have dealt with him and had the same kind of experiences".
"We all have to come together now and do something, because the stronger we are in numbers the more likely the police will reopen the case and the more likely people will listen," a third added. "We all need to be strong together and it will make [other alleged victims] feel so much better to know that they're not alone."
"I didn't know [the other claimants] for the whole four-year investigation. I knew about them but had never met them. We have come together through the civil case, which has been really uplifting - to now know that I'm not alone in this. But it has also been overwhelming. We have been through so much together but didn't even know each other."
"Seeing the other three claimants have the courage to take a stand against him and being given a voice made me realise that we have the power to stop him," stated the fourth woman to come forward. "This is about justice and saying no to violence against women."
The four women are crowdfunding the case via Crowd Justice with the aim of reaching £50,000 for legal proceedings. To donate, please visit crowdjustice.com.
Contact Rape Crisis for information or support relating to rape and sexual abuse, on 0808 500 2222.
Celebrity news, beauty, fashion advice, and fascinating features, delivered straight to your inbox!
Patsy Stevenson is an equal rights activist, writer, and public speaker. She has done multiple speeches and panels whilst advocating for women and girls in the public eye since 2021. Her last talk was a Tedtalk about the importance of gender balance in AI creation as her specialities include women's safety, feminism in tech and STEM and general gender equality.
She has fought and helped campaigns against bills such as the public order bill and the police, crime, sentencing and courts bill, working with many organisations such as Liberty, The Body Shop and Refuge.