Midlife crisis eclipsed by midlife makeovers
It looks like the midlife crisis is being overshadowed by midlife makeovers, as increasing numbers of people are seeing getting older as a positive promt to enhance their lives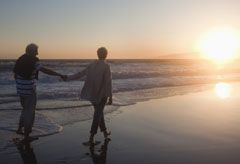 (Image credit: REX)
It looks like the midlife crisis is being overshadowed by midlife makeovers, as increasing numbers of people are seeing getting older as a positive promt to enhance their lives
It seems 40 really is the new 30 as those reaching middle age are feeling compelled to take up new hobbies and spend more time with loved ones.
A survey of 2,000 adults between the ages of 40 and 59 showed that the majority planned to make fundamental life changes such as learning a new skill, taking up a new hobby or starting an exercise regime.
The study by Experian Credit Expert suggests 85 per cent have made significant changes to their home, family and work lives, seeing middle age as a second chance to achieve their ambitions and desires.
And it looks like gap years are not just for school leavers, with 70 per cent saying travelling the world is one of their goals, followed by spending time learning new things and dedicating their life to a favourite hobby.
'People entering their late 40s in 2011 are still only halfway through their working lives,' says Peter Turner, managing director of Experian Interactive. 'These results show that far from throwing money at new toys in a quick fix, many are channelling their energy towards making positive and fulfilling changes.'
Celebrity news, beauty, fashion advice, and fascinating features, delivered straight to your inbox!