Christmas terrorist fears
The arrest of 12 men in the UK on charging of plotting terrorist attacks is a stark reminder that al Qaeda could strike this winter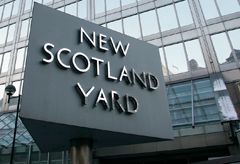 (Image credit: Rex Features)
The arrest of 12 men in the UK on charging of plotting terrorist attacks is a stark reminder that al Qaeda could strike this winter
Christmas shoppers and party-goers are thought to have been the target of 12 men aged between 17 and 28 arrested on suspicion of preparing al Qaeda attacks on mass-casualty targets.
The men, from four cities in England and Wales, have been the subject of a multi-million pound surveillance operation for several months and were arrested just days after anti-terror chiefs consulted Home Secretary Theresa May about the threat posed to national security.
Yesterday's operation, led by West Midlands Police, supported by Scotland Yard's Counter Terrorism Command, South Wales Police and Staffordshire Police, has been described by security services as 'hugely significant'.
'This is a large-scale, pre-planned and intelligence-led operation. We are unable to go into detail at this time about the suspected offences. However, I believe it was necessary to take action to ensure public safety,' says Metropolitan Police Assistant Commissioner, John Yates.
Staff at nightclubs and main retailers in Cardiff have been on alert following warnings of possible terrorist attacks in the run up to Christmas. Security has also been stepped up at shopping centres across the country in recent weeks including Westfield in London, Trafford in Manchester and Bluewater in Kent.
All 12 suspects - arrested in Cardiff, Stoke-on-Trent and London - are being held at police stations throughout London, the North West and the West Midlands. Their home addresses are being searched, computers and phones examined and immigration status confirmed.
The UK's terror threat remains severe and Theresa May maintains the UK faces a 'real and serious threat from terrorism.'
Celebrity news, beauty, fashion advice, and fascinating features, delivered straight to your inbox!