Amanda Knox's lawyers threaten to sue over film
Lawyers representing convicted murderer Amanda Knox are threatening to take legal action over a film portraying the killing of Meredith Kercher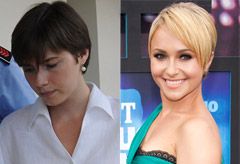 (Image credit: Rex Features)
Lawyers representing convicted murderer Amanda Knox are threatening to take legal action over a film portraying the killing of Meredith Kercher
Amanda Knox's lawyers are threatening to sue filmmakers behind the controversial new film, Amanda Knox: Murder On Trial In Italy, claiming it is inaccurate and prejudicial ahead of an appeal hearing.
The film has also been described as 'horrific' by the parents of the murdered student, Meredith Kercher, who spoke of their disgust after a trailer was released for the American film.
The disturbing footage sees Heroes actress Hayden Panettiere play the American exchange student, Knox, as she murders Kercher.
Carlo Dalla Vedova, who is representing Knox at her forthcoming appeal hearing next month, said: 'We have seen the trailer and it is completely wrong that a film should be made about a case that has not yet finished and is going through an appeal.
'Certain scenes in the trailer are inaccurate and have been proved to be inaccurate during the trial, so to say the screenplay is based on events during the trial is also wrong.'
Knox's family are concerned that the movie will be detrimental to the delicately balanced appeal hearing and are claiming not to have been consulted about the making of it.
Last year, Knox won 40,000 Euro in damages from an Italian crime journalist who used extracts of her prison diary in a book about her, detailing her sex life.
Knox, 23, and then boyfriend Raffaele Sollecito, 25, have always denied any part in the tragic murder of 21 year-old Kercher, who was found with her throat cut in the bedroom of a house she shared with Knox.
The original trial ended in December 2009 with Knox receiving 26 years in prison. Miss Kercher, who was studying in Italy as part of her European Studies degree, was killed in November 2007.
MEREDITH KERCHER'S FATHER REACTS TO FILM RELEASE
Celebrity news, beauty, fashion advice, and fascinating features, delivered straight to your inbox!