High social status makes people more trusting
You may think you're the underdog when you start a new job but research suggests your boss trusts you more than you trust them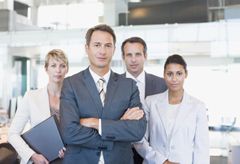 (Image credit: REX)
You may think you're the underdog when you start a new job but research suggests your boss trusts you more than you trust them
You may think you're the underdog when you start a new job but research suggests your boss trusts you more than you trust them.
According to new research those with high social status are more likely to be trusting than those with a lower status. This is due to the role that social status plays in relationships.
Lead author of the study, Robert Lount, says the findings show that having a high status fundamentally alters our expectations of others' motives towards us.
'People have high status because other people like and admire them,' he says. 'The result is that high status individuals come to expect that others are going to treat them well, which makes them more likely to trust.'
The study published online in the journal, Organisational Behaviour and Human Decision Processes, found that those of us who are made to feel like we have higher status are even more likely to be generous towards our partners.
'When you have higher status, you naturally think others are more benevolent and that allows you to trust them more,' says Lount. 'Most people are unaware of how their personal status affects their willingness to trust others.'
Do you think your status makes a difference to trust? We want your thoughts!
Celebrity news, beauty, fashion advice, and fascinating features, delivered straight to your inbox!