You Are Invited To Join Marie Claire's Live Twitter Election Debate On 11 Feb. Now Meet The Panel...
Marie Claire has recruited five of the most powerful women in politics to answer your toughest questions in our live Twitter Election Debate. Here's why we need you...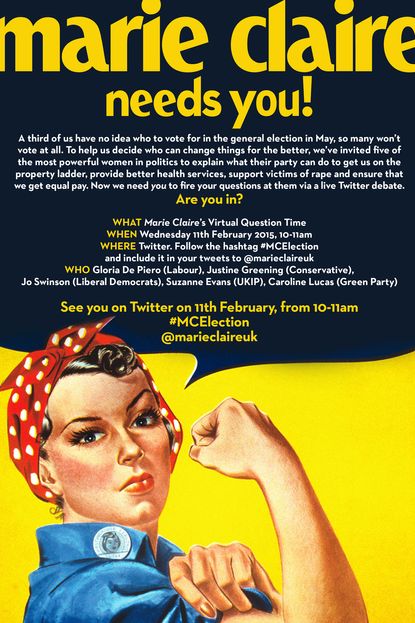 Marie Claire has recruited five of the most powerful women in politics to answer your toughest questions in our live Twitter Election Debate. Here's why we need you...
A third of us still have no idea who to vote for in the general election in May, so many of us won't vote at all. To help us work out who should get our valuable, individual votes, Marie Claire has invited five of the most powerful women in politics to take part in a live Twitter Election Debate. Gloria de Piero, Justine Greening, Jo Swinson, Caroline Lucas and Suzanne Evans will explain what their parties can do for us. In turn, we want you to fire your toughest questions at them, via a live Twitter Election Debate. If it matters to you, it matters to them.
Tweet your questions to @marieclaireuk, using the hashtag #MCElection, and Marie Claire's editor-in-chief Trish Halpin will put a selection of the best ones to our elite panel. From feminism to immigration, health to employment, find out who should get your vote by tuning in to Twitter on Wednesday 11th February 10am-11am.
Meet our panel below, and start tweeting @marieclaireuk the questions you want answered... Justine Greening, Conservative Follow @JustineGreening
As the International Development Secretary, Justine has taken a leading role in the fight to end FGM and forced marriage worldwide. She has also spoken up about the need to see greater diversity in Parliament, with more MPs from poorer backgrounds. Justine has been heavily involved in Britain's efforts to help with the Ebola crisis. She has been the MP for Putney since 2005.
Gloria de Piero, Labour Follow @GloriaDePiero
The Shadow Women and Equalities Minister has been the MP for Ashfield since 2010. She has expressed support for the No More Page 3 campaign, and recently became involved with the "Woman to Woman" campaign to encourage more women to vote. Gloria wants to see more diversity in Parliament and she and her team have recently put forward plans to make LGBT sex education compulsory.
Jo Swinson, Liberal Democrat Follow @joswinson
The Minister for Women and Equalities and Employment Relations and Consumer Affairs has been the MP for East Dunbartonshire since 2005. Last year, she garnered publicity for criticising a rule banning women from breastfeeding in the House of Commons. As part of her role, she oversees women and growth, women on boards and LGBT strategy. Jo was instrumental in delivering the upcoming introduction of shared paternity leave.
Suzanne Evans, UKIP Follow @SuzanneEvans1
The UKIP Deputy Chairman of Policy will be standing for a seat in Shrewsbury & Atcham in this May's General Election, and recently wrote a book explaining why she believes people should vote for her party, which she describes as 'a breath of fresh air for women,' stating that she doesn't believe in the need for gender quotas. She argues that special quotas or rights for women are "demeaning."
Caroline Lucas, Green Follow @CarolineLucas Caroline Lucas made history when she became the first and only Green Party MP (for Brighton) in 2010. She is anti-tuition fees, and wants to see the end of zero-hour contracts. Caroline wants to find a solution to the high cost of rail commuting in the UK. She led a Parliamentary campaign demanding a return to free prescriptions and free eye and dental checks. In June 2013, she garnered publicity for wearing a No More Page 3 t-shirt during a Commons debate on media sexism.
Now WATCH the #MCElection debate video here
In the meantime, make sure you have registered to vote by clicking here.
Find out what happened at the live Twitter debate here
Celebrity news, beauty, fashion advice, and fascinating features, delivered straight to your inbox!