Wife sues ex-husband for lack of sex
A Frenchman has been sued by his ex-wife for failing to fulfil his marital duties by making love to her during their marriage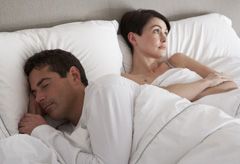 (Image credit: REX)
A Frenchman has been sued by his ex-wife for failing to fulfil his marital duties by making love to her during their marriage
A lack of activity in the bedroom is enough to damage any marriage, but one wife has taken blame to another level by suing her ex-husband for almost £10, 000 because he did not have enough sex with her during their marriage.
The 51-year-old Frenchman, named only as Jean-Louis, neglected his matrimonial duties to his wife Monique who took her divorce case to an Appeal Court. The couple had been married for 21 years and raised two children, but work and illness prevented Jean-Louis from being more attentive between the sheets.
The Frenchman was fined under article 215 of France's civil code, which states married couples must agree to share a communal life. A judge has now ruled this law implies that sexual relations must form part of a marriage.
A judge in the south of France's highest court in Aix-en-Provence ruled: 'A sexual relationship between husband and wife is the expression of affection they have for each other, and in this case it was absent.
'By getting married, couples agree to sharing their life and this clearly implies they will have sex with each other.
A survey by the French Institute of Public Opinion questioned 1, 000 adults and found that shockingly 76 per cent of them suffered relationship problems due to a poor sex life. Half of those polled say they have no desire to make love.
Do you agree that sex is an imperative part of marriage? Should it be a legal offence not to have sex with your partner? Whatever your thoughts, however extreme Marie Claire wants to hear from you.
Celebrity news, beauty, fashion advice, and fascinating features, delivered straight to your inbox!