Sleeping after sex shows you're in love
It's commonly thought that falling asleep immediately after sex is bad manners, but researchers believe it is a sign of true love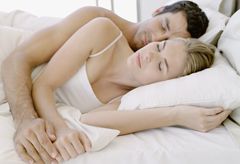 (Image credit: Rex Features)
It's commonly thought that falling asleep immediately after sex is bad manners, but researchers believe it is a sign of true love
Dropping off to sleep straight after sex is a sign that you and your partner have a strong and meaningful relationship, according to evolutionary psychologists.
The team from the University of Michigan and Albright College in Pennsylvania claim nodding off after sex is associated with a greater desire for bonding and affection.
'The more one's partner was likely to fall asleep after sex, the stronger the desire for bonding,' says lead author, Daniel Kruger.
The psychologists studied 456 participants and found those who fell asleep immediately had stronger desires for post-coital cuddling and chatting.
'Falling asleep before one's partner may be a non-conscious way to foreclose on any commitment conversation after sex,' says co-author Susan Hughes, associate professor of psychology at Albright College.
The study also found that despite the common stereotype that men fall asleep first, there was no significant difference between the genders.
Celebrity news, beauty, fashion advice, and fascinating features, delivered straight to your inbox!