The Secrets of London Fashion Week's Hot New Names to Know
London Fashion Week kicks off tomorrow, so we spoke to four of the capital's hottest young ones to watch about their style. Read on for your fashionista cheat sheet and start name-dropping now...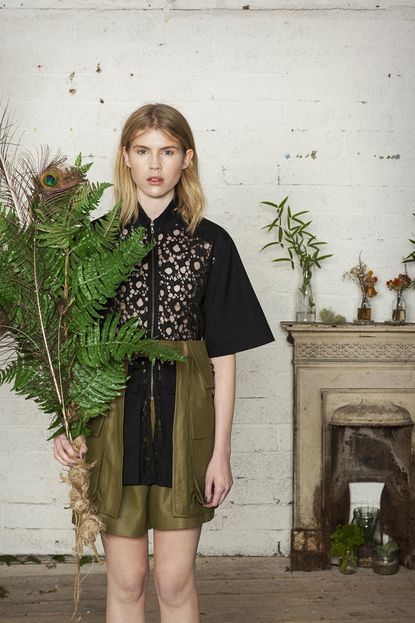 London Fashion Week kicks off tomorrow, so we spoke to four of the capital's hottest young ones to watch about their style. Read on for your fashionista cheat sheet and start name-dropping now...
The fashion clock's on countdown, the street style paps are circling round Somerset House… yup, it's LFW time. While you can always rely on Burberry for a barnstorming show and we're always agog to see what London faces Mary Katrantzou, Christopher Kane et al have in store, one of the things we LOVE about London is the chance to see raw new talent emerge season after season. We spoke to four of the coolest up-and-comers about their current SS15 collections. Read on for everything you need to know for serious fashionista points – and watch out for their upcoming AW15 presentations…
The designer: Danielle RomerilSignature style: A clean, pretty take on casual – think crisp khaki cottons mixed with lace CV in a nutshell: MA at the Royal College of Art and a stint at Alberta Ferretti The Danielle girl: 'She knows what she wants and she's not too focused on the male gaze. She's relaxed but a go-getter and she doesn't worry about matching her shoes to her handbag' SS15 inspiration: 'The idea was this girl gang who lived outside in the wilderness and fished for their supper. It's about utility and self-sufficiency. I was also inspired by the Deep South's bayou – that's where all the reeds and pontoons in my presentation came from. I had this idea of the girls swinging their legs off the jetty. That brought me to the fishing tackle boxes, fishing vests and hunting vests'
The designer: Shrimps by Hannah Weiland Signature style: faux-fur, faux-fur and faux-fur. Single-handedly responsible for the explosion of pop-coloured fluffiness seen on everyone from Alexa Chung to Poppy Delevingne last year CV in a nutshell: Surface textile and design course at London College of Fashion. Whipped up a petrol-blue coat in her bedroom after finding an 'amazing' faux-fur fabric while on her course. Laura Bailey spotted it on Instagram. The rest is history The Shrimps girl: 'I love colour and fluff, but I also love simple chic. Lots of people think my style is kitsch, but it's actually about simple shapes in a beautiful colour' SS15 inspiration: Pebbles from The Flintstones – 'my favourite character, I love ginger hair' – colourful Mexican architecture and rock sculptures by architect Jacques Couelle. Weiland also expanded on her faux-fur repertoire by producing printed silk pyjamas to team with the coats and jackets
The designer: Trager Delaney Signature style: Cool, off-kilter separates with an oversized silhouette CV in a nutshell: Lowell Delaney and Kim Trager met at Central Saint Martins during their knitwear BA. Instead of continuing onto an MA, they pooled their course fees and started their own label instead The Trager girl: 'We're about not giving a shit. We're not afraid of covering up in long dresses, it's really elegant if you have the confidence to not have to put yourself out there' SS15 inspiration: Russian constructivism, photos of everyday life in Russia, a print inspired by their own food photos, normcore items such as wooden stools and plugs – 'normcore was a word we used as a joke, but it's perfect to describe the mood. The beauty of the ordinary'
The designer: Faustine Steinmetz Signature style: denim and basics, elevated to an art form using artisan techniques. Example: a pair of vintage jeans that were taken apart thread by thread and rewoven by hand to make a new pair. Ten people, two weeks work CV in a nutshell: Textiles MA at Central Saint Martins, then Topshop NEWGEN sponsorship. Always a denim devotee, she started cutting up her jeans to make other pieces at age 14 The Faustine Steinmetz girl: 'I don't want to be a "fashion" label; to me, fashion is about the "girl", but I'm more about how you make a piece. It's easy to invent a girl who doesn't exist – tall and rich! I want to reproduce basics because that's what people actually wear' SS15 inspiration: Traditional 'shibori' pleating, fibre artist Teresa Barboza, Issey Miyake Pleats Please collections, ad images from luxury mega-brands like Chanel and the opposite – plastic bags, security tags and 'reduced' stickers from groceries
Celebrity news, beauty, fashion advice, and fascinating features, delivered straight to your inbox!