Facebook launches email to rival other providers
Facebook has launched it's much hyped 'Gmail killer' to rival other email providers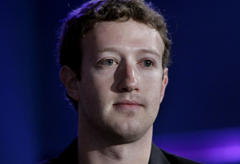 (Image credit: PA Photos)
Facebook has launched it's much hyped 'Gmail killer' to rival other email providers
Last night, Facebook founder Mark Zuckerberg announced plans to revamp the social networking site by introducing email in a bid to make it the main source of online communication.
FOR ALL THE LATEST NEWS AND CELEBRITY GOSSIP, BECOME A FAN OF MARIE CLAIRE ON FACEBOOK!
The new facility would give members the option of having an @facebook.com email address, meaning users would be able to do all their communicating on one site.
'It is a messaging system that includes email as part of it,' says Zuckerberg. 'It will handle messages across all the ways you want to communicate.'
The move will intensify the battle between Facebook and Google's popular email set up, with analysts suggesting the addition to the social network, which already boasts 500 million members, would be a worry for other providers.
'If I were Google, Yahoo or Hotmail, I'd be very nervous,' says Jesus Diaz, of technology blog Gizmodo.
At present, Microsoft's Hotmail is the most popular email client, followed by Yahoo and Google, but Diaz suggests Facebook Mail could be a killer because of its natural advantage of making mail more useful.
Stuart Miles, of the website Pocket-lint, said: 'A lot of people spend a lot of time on Facebook already so, if you can check your email it will increase the amount of time people spend on the site massively.'
BECOME A FAN OF MARIE CLAIRE ON FACEBOOK NOW!
Celebrity news, beauty, fashion advice, and fascinating features, delivered straight to your inbox!