David reveals Victoria Beckham's struggle to feed baby Harper
David Beckham has spoken out about wife Victoria's painful back condition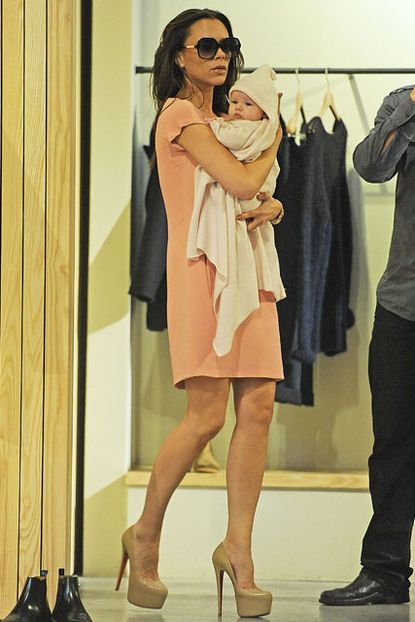 (Image credit: Rex)
David Beckham has spoken out about wife Victoria's painful back condition
David Beckham has spoken of wife Victoria's painful back condition, revealing the fasionista found looking after daughter Harper 'very difficult' in the first few months after giving birth.
SEE BECKHAM FAMILY PICTURES HERE
David confessed Mrs Beckham even struggled with feeding the newborn, who was born in July, which was apparently 'very uncomfortable' and a painful experience.
At the launch of David's new fragrance Homme, the footballer told the press, 'It was obviously very uncomfortable for her because feeding Harper was very difficult and so was picking Harper up.'
Victoria Beckham suffered from a traumatic back condition after giving birth, which was said to be a slipped disc, keeping her housebound for the first two months and unable to hold Harper.
One source told the Mirror, 'Victoria is in a lot of pain and even struggling to hold Harper. When she goes to breastfeed, David has to basically prop-up the baby.'
Fans started to notice something was wrong when pictures emerged of the celeb-designer wearing flats, unable to wear her trademark high heels.
It seems the pressure to make New York Fashion Week helped Victoria's recovery as she was spotted shopping back in her Louboutins and carrying Harper like her newest accessory.
David stressed that both are now 'doing great', and it seems the three-month-old may already have Daddy wrapped around her little finger.
The LA galaxy player was heard gushing at how amazing Harper Seven was, saying, 'She's so calm, she's so ladylike - the way she holds herself, the way she breathes, the way she smiles - it's amazing.'
SEE BECKHAM FAMILY PICTURES HERE
Celebrity news, beauty, fashion advice, and fascinating features, delivered straight to your inbox!