SHOCK NEWS! Katie Price wins debate at Cambridge University
We never thought we'd see the day...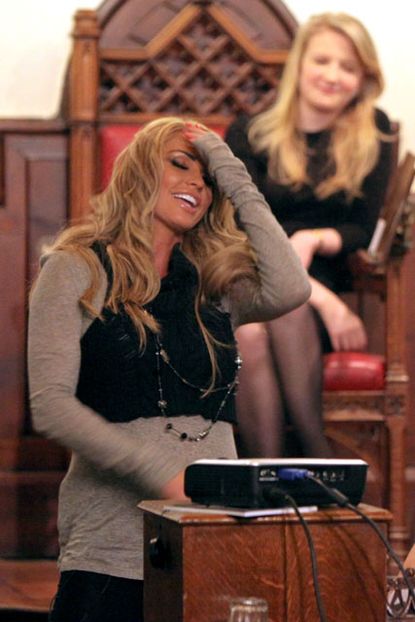 (Image credit: Rex Features)
We never thought we'd see the day...
Katie Price has done something truly shocking - she's won a live debate at Cambridge University.
That's right, you read that correctly. The 33-year-old glamour model defied all odds yesterday to win a highbrow debate at the famous university's union, which has previously held discussions with the likes of US President Ronald Reagan and Prime Minister Winston.
Price was debating against Boris Johnson's younger sister Rachel, editor of The Lady, and journalist Liz Jones as she opposed the motion: 'This house believes the only limit to female success is female ambition.'
And despite forgetting her lines and at times appearing to struggle with reading her notes, the topless model went on to receive a loud cheer for the Cambridge Union at the end of her ten-minute speech.
Speaking about the idea of female success, Price told the Cambridge students that her motto is: 'There is no such thing as can't, because I can.'
In responce to Price's attempts, Johnson made some narky comments about the model's career, saying: 'The sky is the limit or in your case a ten part series on Sky called Katie.'
Ms Johnson then added: 'Katie Price's novels are for real lovers of literature.'
Still, the last laugh was on Price as she was revealed to be the winner of the debate.
Before the event, President of the Cambridge Union, Katie Lam, explained her decision to invite Price to speak. She said: 'I decided to invite Katie Price because she's a prominent public figure who is very popular among and represents the aspirations of a large number of women and girls in the UK, and I thought her perspective would be a valuable one to add to the debate.'
Wonders will never cease!
KATIE PRICE'S STYLE HIGHS & LOWS
Celebrity news, beauty, fashion advice, and fascinating features, delivered straight to your inbox!