Robert Pattinson: Kristen Stewart 'looks amazing' as a bride
Rob gushed Kristen looked amazing as his bride in their Twilight Breaking Dawn wedding scene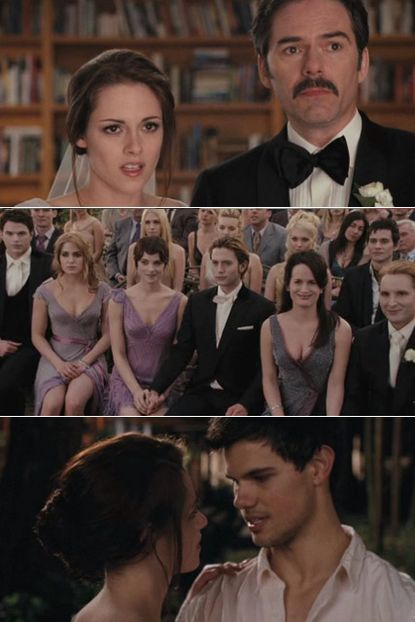 Rob gushed Kristen looked amazing as his bride in their Twilight Breaking Dawn wedding scene
Twilight star Robert Pattinson has gushed that Kristen Stewart 'looks amazing' as his bride in their Breaking Dawn wedding scene.
THE TWILIGHT SAGA: BREAKING DAWN PART 1 PHOTOS With just days to go until much-awaited Breaking Dawn - Part 1 arrives, we've all been waiting to watch Edward and Bella finally tie the knot.
We've already set eyes on Bella's glitzy engagement ring, but it's the Breaking Dawn bridal gown everyone's been wanting to catch a glimpse of.
And now R-patz has confirmed it's an 'incredible dress' and that Kristen looks 'amazing' in it.
Rob went on to say that the dress was such a big secret that most of the cast were genuinely curious to see the gown.
'I'd seen her in the wedding dress, but pretty much everyone in the cast hadn't seen her,' Pattinson said. 'So when she's walking down the aisle and everyone turns around to her, it's genuine curiosity because there was so much secrecy about it.'
Kellan Lutz, who plays Edward's vampire brother Emmett in the film, told added that 'Rob looked like a stud [in the wedding].'
Lutz also agreed with Pattinson saying, 'Kristen Stewart is just stunning. She really made everyone turn heads. She looked so beautiful.'
Perhaps acting out their on-screen wedding has given Rob ideas about getting married in real life.
With new appreciation for nuptials, he said, 'Watching Kristen … she had to take all the nerves, all the heavy lifting in the scene. You suddenly realize that the role of a man, the role of a groom in a wedding, is that of a prop.'
Well, even if you are just a 'prop' Rob we can't wait to see you in your top hat and tails!
WATCH BEHIND-THE-SCENES ON TWILIGHT BREAKING DAWN
ROBERT PATTINSON AND KRISTEN STEWART MOMENTS
Celebrity news, beauty, fashion advice, and fascinating features, delivered straight to your inbox!