Robbie Williams battling mystery illness
The newlywed star has revealed he thought he was suffering with depression, but has been diagnosed with a 'life changing' illness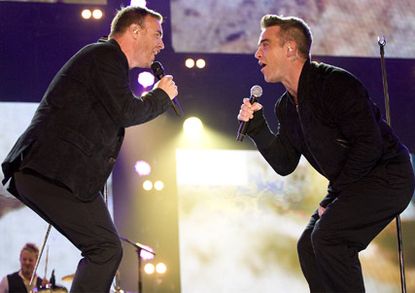 (Image credit: Rex Features)
The newlywed star has revealed he thought he was suffering with depression, but has been diagnosed with a 'life changing' illness
Newlywed Robbie Williams has revealed he's been battling a mystery illness, which he wrongly thought was depression.
SEE ROBBIE'S CAREER IN PICS HERE!
The star's said to have been suffering during his time out of the spotlight – with the mystery condition first hitting four years ago - but he thought he was 'depressed as a person.'
But just months ago doctors diagnosed Rob with an undisclosed illness, putting on treatment which has 'changed his life.
'I thought I was lethargic and depressed as a person. I thought that was my make-up,' Robbie told Magic 105.4FM in a recent radio interview.
And although Robbie didn't reveal the nature of his illness, it seems he's starting to feel much better.
'I found out a few months ago that I'd been ill, completely by mistake, and I don't want to go into the whys and wherefores but what I had made you lethargic and made you depressed and I'd had it for years and not known and I'm on treatment for it,' he said.
'It's changed my life.'
This star also spoke about his struggles with fame, and how he 'went mental' after his rise to superstardom.
'I don't think anybody's responded to it particularly well when they get to a certain level,' Williams continued.
'Elton John went mental, Elvis went mental, I went mental. Everybody at some point, at that stage, goes bonkers.'
But luckily, it seems Robbie has come back down to earth, after he put in a glittering performance alongside Gary Barlow at the Help for Heroes concert last week.
We're glad to see you back to your best,Robbie!
What are your thoughts on Robbie Williams' comeback? Let us know in the comments box below.
SEE ROBBIE AND GARY'S STAGE DEBUT HERE!
ROBBIE AND AYDA WEDDING PICTURES
Celebrity news, beauty, fashion advice, and fascinating features, delivered straight to your inbox!