Lily Cole talks Heath Ledger at Cannes Film Festival
As her new film screens in Cannes, Lily tells us about working with Heath on his last-ever film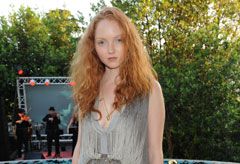 (Image credit: Rex Features)
As her new film screens in Cannes, Lily tells us about working with Heath on his last-ever film
In a Cannes Film Festival that hasn't exactly been short of everyone's-talking-about-it movies (Antichrist, Inglourious Basterds, etc), Terry Gilliam's The Imaginarium of Doctor Parnassus stands out because it was the last film that Heath Ledger ever made.
SEE ALL THE CANNES FILM FESTIVAL PHOTOS HERE
The actor, who won a posthumous Oscar last year, died during filming in January 2008. As a result, drastic changes were made to the script and his character was rewritten to physically transform throughout the film, with Johnny Depp, Colin Farrell and Jude Law stepping in to take up the role.
Model Lily Cole stars as Valentina, the daughter of Doctor Parnassus himself, and she was in Cannes today as the film screened for the first time.
'Of course it was weird and difficult going back to work after Heath died,' she told marieclaire.co.uk. 'We were mourning him and now we had to work opposite actors who were playing the same role. It's a testament to what great actors they are that they managed to make that work. And also they were friends of his, so they were missing him too. But there was a good-hearted feeling among cast and crew about why we were doing it.'
Co-star Andrew Garfield, who recently appeared in Channel 4's Red Riding, called Heath 'a beautiful, soulful, energetic presence.'
The film will be released in the UK in the autumn, so look out for our full review then.
Report by Rosamund Witcher in Cannes
ARE YOU A TWITTERER? FOLLOW US HERE!
BECOME A MARIE CLAIRE FACEBOOK FAN HERE
Celebrity news, beauty, fashion advice, and fascinating features, delivered straight to your inbox!