Kristen Stewart talks Breaking Dawn wedding dress
K-Stew's revealed all on her Twilight big day dress, and how she'll have a hand in choosing the special gown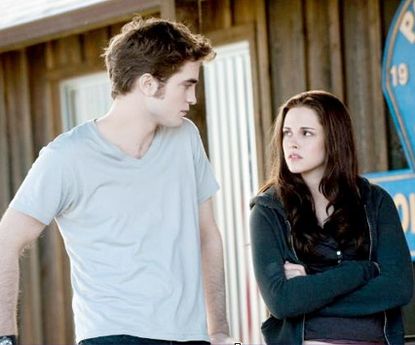 K-Stew's revealed all on her Twilight big day dress, and how she'll have a hand in choosing the special gown
When we spotted the first pictures of Robert Pattinson, Kristen Stewart and Taylor Lautner onset earlier today, we thought we couldn't be any more excited. That was until K-Stew decided to open up on Bella's wedding dress, and how they'll choose the look for her big Breaking Dawn day.
BREAKING DAWN: MEET THE NEW CAST With just weeks to go until filming, the cast are on set, and have been undergoing final pre-production preparation, in time to start filming at the beginning of November.
Although the stars have already had wardrobe and wig fittings galore, there's one special dress that we just can't wait to hear more about.
And with Bella's big day looming,Kristen has finally opened up on choosing a dress for the Twilight nuptials, when she'll officially become Mrs Edward Cullen.
'I haven't put the one on yet. To be honest, it's such a big deal,' she said.
But the lucky starlet will at least 'have a little hand' in choosing the special gown, along with author Stephanie Meyer. 'It's such a big decision. I have a little hand in having a decision - or having an opinion more - but I think it's pretty much up to Stephenie.
'I'm not quite sure exactly what it's going to look like, but it will be beautiful, I'm sure.'
Are you looking forward to seeing Bella and Edward's special Breaking Dawn day? Let us know in the comments box below.
ROBERT PATTINSON AND KRISTEN STEWART RELATIONSHIP PICS
Celebrity news, beauty, fashion advice, and fascinating features, delivered straight to your inbox!