Emma Watson denies 'absurd' feud with Kristen Stewart
The Harry Potter has hit out at claims the pair are at war over R-Patz, branding the rumours 'totally fabricated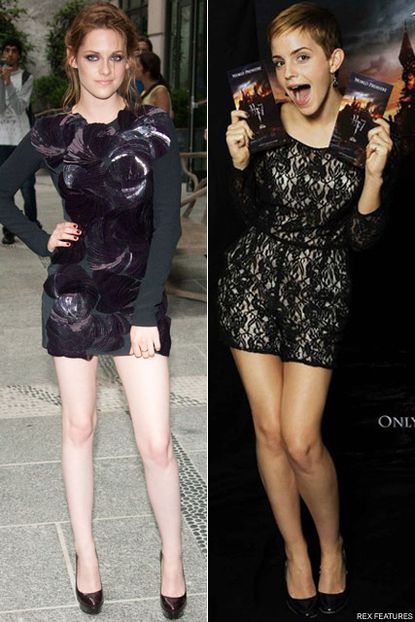 The Harry Potter has hit out at claims the pair are at war over R-Patz, branding the rumours 'totally fabricated
Harry Potter star Emma Watson has slammed rumours of a feud with Kristen Stewart, after reports suggested the pair were at war over leading Twilight vamp, Robert Pattinson.
SEE ALL THE LATEST HARRY POTTER AND THE DEATHLY HALLOWS PICS HERE!
Earlier this week, reports surfaced that Kristen had accused Emma of 'trying to steal' R-Patz away from her, following rumours they were set to star together in moody flick, Dark Arc.
'Like all girls,Kristen can be very jealous and possessive, and in her mind Emma poses a threat,' a source reportedly said.
But yesterday Emma's rep slammed the rumours as 'totally fabricated', denying any clashes between the two young starlets.
Branding the story 'absurd and totally fabricated,' Em's spokesman also said there is 'no feud, not any hint of one'.
Phew!
Em's said to have recently split with musician, George Craig, and has been throwing herself into university life at Brown, while Kristen's been busy shooting flick On the Road, in time to get started on Breaking Dawn.
What are your thoughts on R-Patz' leading ladies? Would you like to him couple up with Emma Watson, instead of K-Stew? Let us know in the comments box below.
ALL THE LATEST DEATHLY HALLOWS PICS
EMMA WATSON STYLE HIGHS AND LOWS
Celebrity news, beauty, fashion advice, and fascinating features, delivered straight to your inbox!