Does Lindsay Lohan have a new love?
Li-Lo rumours she has hooked up with British photographer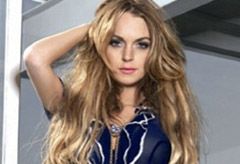 Li-Lo rumours she has hooked up with British photographer
Lindsay Lohan has reportedly taken no time in getting over ex-girlfriend Samantha Ronson, after reports have emerged the ailing star has a new love – this time a man.
It seems the Lohan way to mend a broken heart is to jump right back on the dating wagon, just a fortnight after her very public split with the Brit DJ.
Rumours have surfaced Stateside that Li-Lo has a new man in her troubled life – a British paparazzo photographer by the name of Chris Jepson.
According to US tabloid, the New York Post, the 22-year-old met Jepson at a recent house party in the Hollywood Hills and already the rumour mill has gone into overdrive with insiders claiming the pair spent rather too long behind a locked bathroom door.
One leak to Life & Style magazine revealed: 'His name is Chris Jepson and he's British. Lindsay's mom, Dina, has even met him. He seems like a good guy. Lindsay's family is very happy she's moved on from Samantha Ronson.'
The true identity of Lohan's latest fling is still a little murky, with another source telling Life & Style that Jepson is a manager at the London club Bungalow 8.
Whatever his background, Lohan's car-crash existence continues apace with the final revelation on Jepson's MySpace page that he is 41-years-old… ouch.
WANT MORE CELEB NEWS? CLICK HERE
ARE YOU A TWITTERER? FOLLOW US HERE!
Celebrity news, beauty, fashion advice, and fascinating features, delivered straight to your inbox!