Axed Belle Amie blame Simon Cowell for their early exit
The teary X Factor girl group have slammed their mentor, revealing he spent too much time with boy band One Direction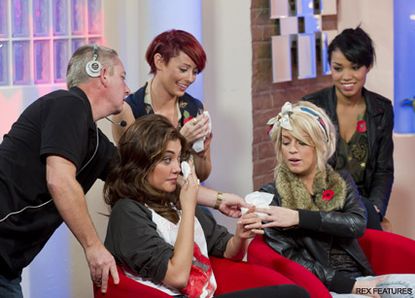 (Image credit: Rex Features)
The teary X Factor girl group have slammed their mentor, revealing he spent too much time with boy band One Direction
Axed X Factor girl group Belle Amie have slammed ex-mentor Simon Cowell for spending too much time with teenage boy band One Direction, and blame him for their early exit, according to reports.
SEE ALL THE LATEST X FACTOR PICTURES HERE!
The teary girl group – who were booted out over the weekend, after losing out to Cheryl's Katie Waissel – have revealed they struggled to understand why they weren't a hit with voters, adding that girl bands never seem to do well in the competition.
'We've always had that bad curse girl band thing hanging over our heads, so anytime we even did well it was like 'they did really well, great performance, they looked great but girl bands never do well,' outspoken singer Sophia Wardman revealed in an interview with This Morning.
And it seems the girls blame their mentor for their lack of success, insisting he put all his effort into popular boy band One Direction.
'I think it's a lot easier for the boys to do well because they're five cute boys and the girls are always going to love them and they are really good,'
'I think for us, we just wanted a little bit more help, just because it's harder for us to get people to like us, to get the right song and the right styling.'
The girls added a group of boys would always do well, maintaining it was Belle Amie who really needed Simon's help.
'You could put the boys out there in bin bags and sing Baa Baa Black Sheep and they'd go through with flying colours. I think it's just a lot easier for them than us.'
This is not the first time Simon has been criticised for spending too much time working with his boy band.
Just weeks ago, fellow judge Louis Walsh blamed him for the girls' poor performance on the show.
'You've got a problem because you're on your own in this competition,' he told them after their performance.
'Simon is putting all his energies into One Direction and it's not fair. You have no mentor. It's not right. They may be too afraid to say anything but I'm not.'
What are your thoughts on Belle Amie's early exit? Are they right to blame Simon for being voted out? Let us know your thoughts in the comments box below.
SEE ALL THE LATEST X FACTOR PICTURES HERE!
X FACTOR TWITPICS: BEHIND THE SCENES
Celebrity news, beauty, fashion advice, and fascinating features, delivered straight to your inbox!