Brits are 19 years behind on life plan
One in three British adults say the economy is holding them back from achieving their life goals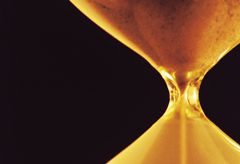 (Image credit: REX)
One in three British adults say the economy is holding them back from achieving their life goals
Millions of Britons are failing to tick off their life goals such as owning a house, getting married and starting a family - because they're not earning enough.
The average British adult is 19 years behind on their life goals due to the struggling economy.
While most people expect to have moved out of home by the age of 22, in reality more than one in 10 adults are still living with their parents at 40.
'When you are growing up, you have very set ideas about when you will have that big white wedding, be carried over the threshold of your brand new house and cradle your first child,' says Tracey Fletcher from Skipton Building Society, which commissioned the study.
'Unfortunately while the majority of people hope to achieve most of their goals in their twenties, it is more likely to be late thirties or early forties before many are accomplished.'
The survey revealed that money was the main cause of the problem with rocketing property prices and low disposable income.
Aims for starting a pension and writing a Will have also changed with 47 per cent of those polled having no pension in place and 77 per cent have not considered a Will.
'Everyone's feeling a squeeze at the moment, with money having to stretch further and our cost of living increasing,' says Ms Fletcher.
'However taking an honest look at your personal circumstances and a little time to plan financially for the future can make a dramatic difference to how likely you are to achieve your personal goals.' CLICK HERE FOR MORE WORLD NEWS
Celebrity news, beauty, fashion advice, and fascinating features, delivered straight to your inbox!