International Women's Day campaigns we can all get behind to make a genuine difference
Because enough is enough.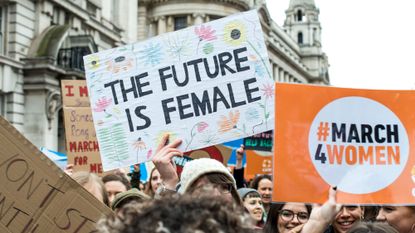 (Image credit: Rex)
Because enough is enough.
International Women's Day is a significant date to celebrate the achievements of women around the world, as well as highlighting what still desperately needs to be done in the on-going fight for women's rights and equality for all women.
Today, as the momentum born out of #MeToo and #TimesUp continues to inspire us all to call out inequality, march for change and put actions where previously we would have simply liked a Facebook post, we have rounded up the boldest, bravest campaigns launching this year that could make a genuine difference. We're in. Are you?
#NotMyJob
As part of Marie Claire's 30th birthday year, this International Women's Day, we launch Not My Job - a campaign to push for genuine equality in the workplace, in partnership with The Fawcett Society, the UK's leading charity for women's rights at work.
Marie Claire is calling on its audience to share their experiences of sexual harassment, bullying and discrimination at work using the hashtag #NotMyJob, because it's no woman's job to be expected to flirt with a client to secure a business deal; or to be talked over in a meeting; or to be discriminated against for taking maternity leave; or to earn less than her male colleagues for doing the same job.
Running throughout 2018, the Not My Job campaign will push for three key actions:
To put in place legislaton to place liability on an employer for acts of harassment by a third party - including clients, contractors or customers who sexually harass, or who make derogatory comments based on gender, race, sexuality, disability, trans status or religion.
To protect our hard-fought workplace rights and legislation in the face of Brexit.
To push for genuine equality in the workplace for all women, from all backgrounds.
There will also be a hub packed with legal advice and information for women who find themselves being discriminated against at work. Join the conversation at #NotMyJob.
#OurTimeNow
This International Women's Day, The Fawcett Society – the leading charity fighting for women's equality at work - is launching OUR TIME NOW. As part of this campaign, the charity is asking people to donate towards their work to fund evidence gathering and urging lawmakers to strengthen the law against sexual harassment at work. You can add your support on Twitter and Instagram using the hashtag #OurTimeNow and donate to the fund here.
#MessageToMySister
For International Women's Day, Women for Women International, the charity which helps women survivors of war, wants to send a powerful message of sisterhood to women in countries affected by conflict to tell them: you are not forgotten.
https://youtu.be/Suyl-fEGTFQ
You can send a #MessageToMySister by requesting a pack and filling in a postcard, submitting a message via the Women For Women International site, or sharing a message of support on social media using #MessageToMySister. Women for Women International will collate the messages and share them with the thousands of women participating in the year-long training programme around the world.
Also, from the 6th to the 8th March, every time you share a #MessageToMySister and tag @Elemis via social media, they will donate £1 to Women For Women International.
#ChangeTheCulture
Ahead of International Women's Day, Sarah Brown's Theirworld charity and a host of influential women including Kim Cattrall, Joanna Lumley, Annie Lennox and Gwendoline Christie, launched #ChangeTheCulture. The campaign aims to press for progress and calls on all of us to end violence against girls and women around the world.
Awards were given to incredible women who are already spearheading the movement for change. A special award was made to a new Global Survivors' Movement working to end sexual violence in war. The movement consists of women from 14 countries and Theirworld awarded two survivors, Nidia and Esperande for their efforts to #ChangeTheCulture, on behalf of all those women speaking out and fighting for change.
The charity also paid tribute to a courageous woman, Tatiana, who was brutally assaulted by a gun-wielding soldier in the Democratic Republic of Congo, and who wrote a moving letter entitled, Hello To You My Rapist.
Theirworld is working with Annie Lennox's charity, The Circle, which aims to inspire and connect women – creating an environment where women can come together: to share experiences, harness their skills, draw on their resources, influence and bring about lasting change. Ultimately to support some of the most disempowered women and girls in the world as they challenge the injustice of inequality. You can pledge your support here.
#PressForProgress
This year's official campaign from International Women's Day is #PressForProgress - pushing for parity between the sexes. As well as supporting the hashtag online, visit the IWD website and pledge to help women and girls achieve their ambitions by shifting mindsets, creating flexible cultures and shifting the gender balance in leadership.
Celebrity news, beauty, fashion advice, and fascinating features, delivered straight to your inbox!