'I'm having an abortion in the UK and this is what it feels like'
'No one wants to have an abortion, they just don't want an unplanned pregnancy'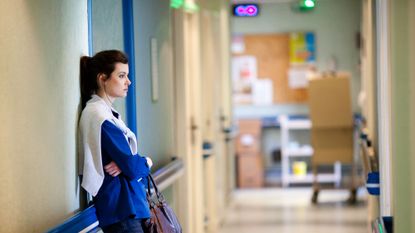 'No one wants to have an abortion, they just don't want an unplanned pregnancy'
Written by Samantha Lewis in 2017
I'm pregnant, but I'm not going to have the baby. I'm having an abortion. It feels like a weight off my shoulders just to admit it.
I'm currently around 6 weeks, exhausted and emotional. I haven't told many people that I'm having an abortion besides my partner, my Mum, a few carefully selected close friends and my line manager. (I have to organise time off work for the abortion).
As tiring as it is growing a little human inside you, while getting up to pee four times a night and struggling to eat or keep down food, nothing is more tiring than the silence I feel enveloped by. An unplanned pregnancy is stressful and abortion is not an easy topic to discuss, but I can't help feeling that it would make life so much easier if women like me were able to share their experiences outside of the Marie Stopes helpline.
I keep crying at work because I can't stop thinking about it. One of the hardest things is that it is constantly on my mind. It doesn't matter how straight-forward the decision might seem, it doesn't make having an abortion any easier. I'm exhausted from keeping it a secret.
After a discussion with my partner, he encourages me to talk about it online. Cautiously, I do, and within an hour I've received around 40 beautiful, kind, supportive messages. Women get in touch to share their personal experiences of having an abortion, and someone even calls for half an hour to talk me through what happened to her. I'm crying down the phone to a relative stranger but I feel so much less alone. It's great having a strong support network but it's completely different speaking to women who've already dealt with the same thing. I'm overwhelmed. All women deserve this much support when going through the abortion process.
At the abortion clinic
My first assessment is surprisingly smooth - I don't even cry. Routine blood and STI tests are done. An ultrasound is done, and I'm grateful that the screen is turned away with the sound off. We talk through my medical history and the type of abortion I'd prefer to have – I've decided on surgical, rather than medical – and whether I'd like to be sedated or anaesthetised. (A medical abortion means passing the pregnancy at home, alone, and the side-effects can include vomiting and diarrhoea). Neither option sounded great but I've decided I would prefer to leave the clinic without the pregnancy, and recover at home with my partner.
The abortion is in two days and it's only just struck me how sad I feel about it. It feels strange that in two days' time I'll no longer be pregnant – my body will be mine again. No one wants to have an abortion, they just don't want an unplanned pregnancy. I'm sure that no one wants their first experience of pregnancy to be like this. It's supposed to be something happy, a cause for celebration. The worst thing is that I don't even have time to deal with it fully. I have to work. I have to be stoic and bottle everything up during the day and get on with things, but I really need time to just be able to cry about it. It's been about two weeks since finding out I'm pregnant until now. I've had to make decisions quickly, and the time has flown before I've really got my head around it.
Having the abortion
We wait in the clinic for hours. I'm grateful to have my partner there as a distraction from the awkward silence in the waiting room. My stomach growls from not having eaten since the night before - no food for six hours before the procedure and no water for two. The wait is so long that I just feel bored and tired and hungry, rather than anxious or fearful.
I go through multiple checkpoints with different nurses. I'm given white slippers and a surgical sheet to wrap around my lower body as I undress. I'm ushered in to the operating room, with five different people I've never met before. Nurses, anaesthetists, the surgeon. I sit back on the bed as the anaesthetist asks me questions, one nurse instructs me how to lie while another places heart monitors on my chest. I can't concentrate - so many voices speak at once. Now I'm scared. My legs are hoisted into stirrups and I start to cry, asking for someone to hold my hand. I'm overwhelmed and scared.
Waking up bleary, about an hour later, I'm moved into a wheelchair with a basket of belongings on my lap, and taken to the recovery area. All the women I'd seen in the waiting room are here: heat packs on stomachs, hot tea, biscuits, blankets. I'm too drowsy to wake up properly. I cry. My stomach cramps like period pains and I want to be home in bed immediately. I text my partner asking him to buy a hot water bottle, fearing I'll be in pain all day – without the option of painkillers for another 4-6 hours.
I'm quiet on the hour-long journey home. I start to bleed as I change into pyjamas, ready to spend the rest of the day in bed. I just want to sleep.
After the abortion
I wake up the day afterwards feeling so relieved. I feel like my body is my own again. Two days after the abortion, I have my third counselling session. Recovery after having an abortion is an emotional time, and there is so much intimacy in experiencing this with your partner. I know now that he will be an amazing father one day, and how much I would like to have children with him in future. Just not yet.
Celebrity news, beauty, fashion advice, and fascinating features, delivered straight to your inbox!
The leading destination for fashion, beauty, shopping and finger-on-the-pulse views on the latest issues. Marie Claire's travel content helps you delight in discovering new destinations around the globe, offering a unique – and sometimes unchartered – travel experience. From new hotel openings to the destinations tipped to take over our travel calendars, this iconic name has it covered.