Government accused of blocking cancer drugs
Cancer specialists are attacking the government over suggestions that new cancer drugs are being blocked to save money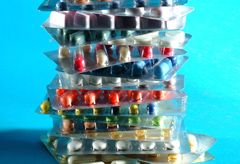 (Image credit: REX)
Cancer specialists are attacking the government over suggestions that new cancer drugs are being blocked to save money
The government has been accused of delaying the introduction of drugs that could help seriously ill cancer patients in a bid to save money.
Professor Jonathan Waxman of Imperial College London, who founded the Prostate Cancer Charity and helped establish the all-party parliamentary group to improve cancer treatment, has described the situation as a disaster.
He explained that a number of new cancer drugs have been blocked by the National Institute for Health and Clinical Excellence (NICE), which assesses the cost-effectiveness of new treatments.
'In my view, NICE has over-regulated and proscribed drugs that offer real advances to people with cancer,' he says.
He argues that there have been at least two new drugs that offer real benefits to patients with prostate cancer that have been disallowed on the basis of cost.
'We're going to have a situation in the UK where drugs are not available for our patients,' said Professor Waxman. 'It's a disaster. Someone just needs to sort this out.'
Glaxo Smith Kline's chief executive, Sir Andrew Witty, agreed that delaying the approval of new drugs is a false economy explaining that the drug bill only constitutes eight to 10 per cent of the total healthcare bill: 'What is being lost in this stampede for cost cuts is any kind of strategic thoughtfulness.'
But a Department of Health spokesperson says the government has increased health spending, including new drugs and advanced treatments, arguing that drug companies need to reassess their high demands on the health service for new treatments.
What do you think? Let us know your views in the box below.
Celebrity news, beauty, fashion advice, and fascinating features, delivered straight to your inbox!