Fat chance of slimming down if you're overweight
If you're shedding pounds for summer, the chances of maintaining your perfect weight are slim as scientists reveal that once you're fat, you'll stay that way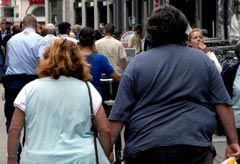 (Image credit: Rex Features)
If you're shedding pounds for summer, the chances of maintaining your perfect weight are slim as scientists reveal that once you're fat, you'll stay that way
Scientists have come to a rather depressing conclusion for those of us who promise ourselves this diet will be The One. According to research, once a person starts piling on the pounds it is a relentless struggle to lose them again.
Rather than concentrate efforts on dieting, health campaigners have been told that they should focus on stopping people getting fat in the first place, says the Medical Research Council,
Despite 12 million people embarking on diets every year, only 10 per cent manage to lose a significant amount of weight and for those that do, most will put the pounds back on within a year.
The team studied 5,362 men and women born in 1946 and 20,000 more born in 1958. Rebecca Hardy from the MRC says: 'Both groups began increasing in weight in the 1980s and since then people have been increasing in mass all through life.
'For men it goes up steadily. For women it starts slowly and accelerates in the mid-thirties. Once people become overweight they continue relentlessly upwards.
'The best policy is to prevent people becoming overweight,' continues Hardy. However, despite diets not making much of an impact on the scales, they do encourage people to eat healthier food and exercise more.
About 60 per cent of adults in Britain are overweight or obese, and this figure is steadily rising each year.
Celebrity news, beauty, fashion advice, and fascinating features, delivered straight to your inbox!