The AW14 Trend Report: 18 Style Ideas For The New Season
Fashion's mixologists have done it again, magicking everything from vintage nostalgia to household products into exciting new style cocktails for us to try this season.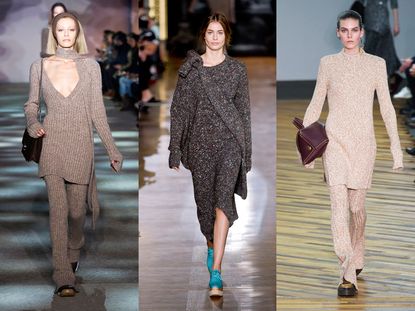 (Image credit: Autumn Winter 2014 Fashion Trends / Imaxtree)
Fashion's mixologists have done it again, magicking everything from vintage nostalgia to household products into exciting new style cocktails for us to try this season.
Will you wear your cereal on your sleeve, embrace blanket dressing, or carry a tiny trunk? Introducing our new season fashion report – the ultimate guide to the autumn winter 2014 trends.
New Knits This season's IT knit shapes are about so much more than trophy sweaters. Slinky ribbed trousers reigned at Marc Jacobs and Celine (and look rather comfy too), while Stella gave us the cosiest monster marl dresses ever. Key AW14 trend pieces: Rib knit trousers, ultimate marl dress.
The Tiny Trunk In his first act as creative director at Louis Vuitton, Nicolas Ghesquière nodded to the house's luxe luggage heritage with a collection of delightfully mini box bags. Elsewhere, Tod's, Christopher Kane, Dolce and Gabbana and Salvatore Ferragamo all presented their own take on the dinky shape. Key AW14 trend piece: The mini case.
Weather-Proof Woman The Miu Miu girl is ready for a downpour in rubber-look booties and technicolour plastic macs, while Alexander Wang has equipped his style-savvy storm chasers with techy fabrics that change colour in different temperatures. He's even covered his utility shift dresses in poppered pockets shaped to hold every survival essential - iPhones and lipsticks included. Elements eliminated. Key AW14 trend pieces: A special rain mac.
Hot Fuzz Shearling is king. Mrs Prada delivered Del Boy-style sheepskin jackets in psychedelic seventies colours, while Chloé kept it slightly more subtle with fuzz trimmed boots. Phoebe Philo, meanwhile, brought mustard fur muffs onto the style radar at Céline. Sounds like it shouldn't work, but teamed with a sleek wool flute dress, it's off-kilter genius. Key AW14 trend pieces: The fuzzy hand-warmer, the shearling lined jacket.
Intergalactic Girl A sky's worth of stars were scattered over the collections of Matthew Williamson, Stella McCartney and more this season, but it was Preen and Rodarte who took the sci-fi warrior look to new galaxies. Darth Vader is Justin Thornton and Thea Bregazzi of Preen's new style icon, demonstrated literally in those ominous portrait prints. Rodarte, meanwhile, gave us Princess Leia smock dresses, metallic armour jackets and an R2D2 robo-print gown. Powerful. Key AW14 trend pieces: The sci-fi print tee, the metallic bomber jacket.
The Chunky Shoes From Stella's star brogues to Céline's epic flatforms, clunky, chunky footwear reigns supreme this season. Even Prada's seemingly pretty Mary-Jane wedges are, in fact, made of AK industrial rubber. We are so done with delicate. Key AW14 trend piece: A pair of flatforms.
Domestic Product From Anya Hindmarch's cereal box bags to Kate Spade and Moschino's takeaway treats, the most covetable accessories this season are disguised as totally normal household objects. Don't forget to stock pile your glam groceries in a chic Chanel shopping basket, which itself retails at £7,190, of course. Key AW14 trend piece: A comedy clutch.
Blanket Dressing Layer upon layer of throws, capes and shawls – this is surely the most effective way to stay super-cosy this winter? Christopher Bailey mastered the art at Burberry, draping richly printed cashmere scarves over his famous trenches before giving every model her own personalised poncho for the finale. Key AW14 trend pieces: Scarves, capes, ponchos and shawls a-go-go.
Fairytale Fab Every fairytale frock has a dark (but still beautiful) edge this season. Alexander McQueen teamed delicate lace trapeze dresses with heavy-duty lashes and black biker boots, while Dolce and Gabbana's heroine worked cartoon-ish capes and a forest's worth of twisted florals. Magical. Key AW14 trend piece: A cape, a drama-packed dress.
Normcore Perfect boring, special normal – whatever you want to call it, there's no getting away from fashion's fascination with the mundane. The Chanel supermarché formed an ideal setting for the perfect pedestrian look –throw on leggings, trainers and a big easy coat. It's all in the luxe twist. Key AW14 trend pieces: Jumper, coat, trainers. Minimal effort required.
All Grey Every-Thang New York's king of colour, Michael Kors, was the first to go grey, working his entire collection around a strict palette of dove, slate charcoal and silver. Ralph Lauren, Tod's, Armani and Richard Nicoll also owned the look, confirming tonal dressing as the palette-cleansing trick of the season. Key AW14 trend pieces: Anything grey.
Hug-To-Your-Hip Handbags Slouchy, scrunchy and super-sized, it was all about having and holding at Gucci, Fendi and Topshop Unique. Avoid the inevitable arm ache by keeping your load light with this one. Key AW14 trend piece: An oversized clutch / bowler hybrid handbag.
Retro References Hedi Slimane's adoring fans will love the mash-up of Sixties and Seventies bijoux on offer at Saint Laurent this season - think glitzy Mary-Janes and nods to mod mini dresses. Gucci, Carven and Valentino, too, picked up on the swinging style vibe with graphic pop-art prints and super-short hemlines. Key AW14 trend piece: A mini skirt.
Chain Gang The last time we saw Victoria Beckham sporting chunky chain detailing she was duetting with Dane Bowers on Out Of Your Mind. But the since-turned super-designer led the trend's revival at NYFW when she used them as chic design details on sleek jackets and wrap dresses. Other bling offerings vary from super-fine jewellery at Christian Dior to some seriously heavy metal at Moschino. Key AW14 trend pieces: A chunky chain necklace, belt or bracelet. But, really, one's probably enough.
Winter Brights Amidst the sea of grey beams some very bright light, as designers like Christopher Kane, Preen and Kenzo gave us acid colours in every off-kilter combination imaginable. Our favourite incarnation? Christian Dior's ladylike dresses which were sliced up to reveal shots of brilliance in the layers beneath. Key AW14 trend pieces: Something bright and cheerful.
Bauhaus The scene is Berlin the year is (we reckon around) 1932 – a host of designers were borrowing from Bauhaus this season, finding inspo in everything from Mondrian's lines (at Tod's) to Marlene Dietrich's wardrobe (Lanvin and Prada). The mood is hard, romantic and a little bit androgynous. We like it. Key AW14 trend pieces: A double-breasted maxi-coat, heavy-duty shoes, a silk neck tie.
The Sporting Life Sportswear has never looked chicer. Ashish, Christian Dior and Chanel did haute trainers, while Jay Z's fake football jersey got real at Tom Ford, emerging as a fully sequined midi-dress. Key AW14 trend piece: Trainers, varsity jackets, football jerseys.
The Statement Coat Whether it's a major fluff-ball, a bold mac or a fabulous in-between hybrid, a super coat is the one key piece you really need to invest in this season.
Key AW14 trend piece: There are tons to choose from – will you snuggle up in one of Phillip Lim's powder puff patchwork numbers, or Roksanda Illincic's Mongolian monsters? Rodarte's glitter bomber or Burberry's water-colour dream coat? You decide.
Want more AW14 trend goodness? Pick up a copy of our fashion special, Marie Claire Runway – out now.
Celebrity news, beauty, fashion advice, and fascinating features, delivered straight to your inbox!