Hollywood's Forgotten Couples
Remember when Matt Damon dated Winona Ryder? When Brad dated Sinitta? Or Ryan Gosling hooked-up with Sandra Bullock? Look back the Hollywood couples time has forgotten....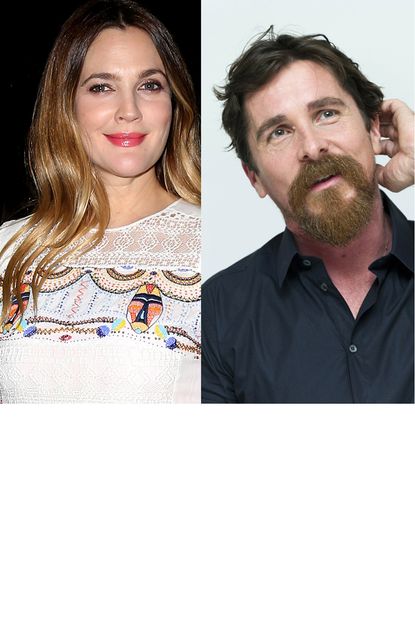 Remember when Matt Damon dated Winona Ryder? When Brad dated Sinitta? Or Ryan Gosling hooked-up with Sandra Bullock? Look back the Hollywood couples time has forgotten....
Remember when Matt Damon dated Winona Ryder? When Brad dated Sinitta? Or Ryan Gosling hooked-up with Sandra Bullock? Look back the Hollywood couples time has forgotten....
Drew Barrymore and Christian Bale
Drew Barrymore and Christian Bale went on a date in their teens - but she never called him back. Drew said she 'didn't know' why, but that at the time she 'wasn't like super boy crazy' and dating was 'very secondary'. She did say he was 'very nice' though, which should be some comfort.

Drew Barrymore and Christian Bale
Drew Barrymore and Christian Bale went on a date in their teens - but she never called him back. Drew said she 'didn't know' why, but that at the time she 'wasn't like super boy crazy' and dating was 'very secondary'. She did say he was 'very nice' though, which should be some comfort.

Ryan Gosling and Sandra Bullock
When: 2002
After meeting on the set of movie, Murder by Numbers, Ryan Gosling and Sandra Bullock started dating, providing plenty of fodder for the gossip columns thanks to a sixteen year age difference. The romance lasted a year, and Gosling soon started another high profile relationship with a co-star - his Notebook leading lady, Rachel McAdams.


Matt Damon and Winona Ryder
When: 1997-2000
A Hollywood hook-up in every sense - Matt Damon and Winona Ryder started dating in 1997, after being introduced at a New Year's Eve party by Gwyneth Paltrow, who was the girlfriend of Matt's best friend, Ben Affleck. The relationship was rocked by controversy from the start, when Matt's previous girlfriend, Minnie Driver, claimed she didn't know their romance had ended until Matt stated it had on live TV and he was already publicly dating Ryder. Oh dear...!

Cameron Diaz and Matt Dillon
When: 1996-1998
No stranger to Hollywood romances - think Justin Timberlake, Jared Leto and now Alex Rodriguez - Cameron Diaz's first high profile romance was with Matt Dillon, after meeting in Minnesota, where they were both filming movies. 'I love him incredibly' she told The Guardian in 1997, but the couple split a year later.

Katie Holmes and Chris Klein
When: 2000-2005
Back when Katie Holmes was best known as Joey Potter, the Dawson's Creek starlet dated American Pie leading man Chris Klein for five years, even announcing their engagement in late 2004. By 2005 their romance was over, and within months Katie was stepping out with a new man - Tom Cruise.

Alanis Morissette and Ryan Reynolds
When: 2002-2007
His most famous romance may be with a certain Scarlett woman, but Ryan Reynolds dated fellow Canadian Alanis Morissette for five years, three of which they were engaged for. Months after they break-up, Ryan was first spotted with a new lady on his arm - Scarlett Johansson.

Orlando Bloom and Kate Bosworth
When: 2002 - 2005
After meeting on the set of a Gap ad, Kate Bosworth and Orlando Bloom became one of Hollywood's most beautiful pairs, dating for three years. In 2004, Bloom gushed to a reporter: 'I'm in love with love. It's heavenly when you're falling for someone and can't stop thinking about her.'

Jennifer Aniston and Tate Donovan
When: 1995-1998
Having ended his engagement with Sandra Bullock in 2004, Tate Donovan went on to date Jennifer Aniston for three years in 2005. There were whispers that the private pair were engaged during the late stages of their relationship, although this was never fully confirmed by either party. The union also helped Tate land a recurring guest spot in Friends in 1997, playing Rachel's love-interest Joshua - but the actor later revealed that all was not well in the relationship at that point. 'We were fighting, we were already breaking up,' he told InTouch magazine. 'Our split didn't happen suddenly.'

Catherine Zeta Jones and John Leslie
When: 1991-1993
Long before Hollywood beckoned, Catherine Zeta-Jones hooked-up with fellow small screen star John Leslie, then best known for being a Blue Peter presenter. He later called her 'The most beautiful woman I've ever seen. There was nothing to compare to her', while she famously stepped up the A-list ladder, marrying Michael Douglas.

Brad Pitt and Sinitta
When: Late Eighties
Yes, they really did! Pop star Sinitta was at the height of her fame when she dated the gorgeous Brad Pitt for two years in the late Eighties. Brad was still working on TV programmes like Dallas when this couple hooked up, but Sinitta was making the most of her superstar status. She says of their time together: 'I think I was too wild for him! I was really young and at the peak of my career and I didn't want to sit and be romantic and eat dinner at home. He was a lot more chilled and I think he was a bit taken aback by the things that I was doing... I think he looked after me more than I looked after him. But I didn't want to be looked after too much. I didn't want another mother.'
Brad PItt and Gwyneth Paltrow
When: 1994-1997
Gwyneth Paltrow saw her star soar when she fell for Se7en co-star. Brad Pitt. The couple were soon the toast of Hollywood's hottest red carpets, with Pitt publicly declaring his love on accepting his Best Supporting Actor statue at the 1995 Golden Globes, thanking, 'the love o' my life, my angel'. In 1996, Pitt popped the question and an elated 25-year-old Paltrow said yes. But the happiness was short live - the couple split seven months later in 1997.


Kirsten Dunst and Johnny Borrell
When: 2007
A brief, but memorable romance, Kirsten Dunst hooked up with Razorlight frontman Johnny Borrell after meeting him backstage at one of his gigs. The pair immediately took their relationship very public, hitting high profile events such as her Spider-Man 3 premiere and the glittering Costume Institute Gala side-by-side. It was all over by the end of 2007, with Dunst checking into rehab for depression just months later.

Ben Affleck and Gwyneth Paltrow
When: 1997-1998
A year after her high-profile engagement to Brad Pitt came to an end, girl-of-the-moment Gwyneth Paltrow dated Ben Affleck for over a year. Despite trying to keep it under wraps for the first couple of months, the pair were seen kissing - for nearly three minutes, reportedly - at a press junket for her film Sliding Doors. There was a brief reunion in 2000.

Renée Zellweger and Jack White
When: 2004-2005
Renée Zellweger didn't just bag an Oscar for her turn in movie Cold Mountain, she found herself a new beau too, co-star and White Stripes' front man, Jack White. The pair dated for a year and a half before going their separate ways and just a year later Renée would shock Hollywood by marrying country star Kenny Chesney. The union was notoriously short lived...

Angelina Jolie and Jonny Lee Miller
When: 1995-1997
Long before Brad Pitt and her many babies, a 20-year-old Angelina Jolie married Brit actor Jonny Lee Miller, after meeting on the set of movie, Hackers. The couple dated for just seven months before walking down the aisle, with Jolie clad in leather trousers and with her beau's name scrawled on her back in her own blood. The relationship came to an end in 1997, but Angelina wasn't put off marriage, yet. She wed Billy Bob Thornton three years later in 2000.



Michael Sheen and Kate Beckinsale
When: 1995-2003
Recognise these two? Not only have they moved on stylishly-speaking (thank goodness!) but they've moved on in their love lives too. Michael Sheen and Kate Beckinsale met while in a touring production of play, The Seagull, and consequently embarked upon a nine year relationship. The pair had daughter Lily, in 1999, before splitting in 2003. Kate then went on to marry director Len Wiseman in 2004, who she met on the set of film, Underworld.

Julia Roberts and Lyle Lovett
When: 1993-1995
The world's jaws collectively dropped when big-screen beauty Julia Roberts married the not-so-picture-perfect country singer Lyle Lovett on 27 June 1993 after a mere three weeks of dating. Beauty and the beast - as the press hard-heartedly dubbed them at the time - didn't last, and Roberts filed for divorce in March 1995, after less than two years of marriage.
Kate Moss and Johnny Depp
When:1994-1998
Johnny Depp and Kate Moss became Hollywood's hottest couple back in 1994, after meeting in Manhattan bistro Cafe Tabac in February of that year.' I knew from the first moment we talked that we were going to be together' Kate later told Spin magazine of that very first meeting. The union had its fair share of controversy and Depp was arrested in September 1994 on suspicion of criminal mischief after trashing a New York City hotel room - where he was thought to have been drunk and fighting with Kate.

Jake Gyllenhaal and Kirsten Dunst
When: 2002-2004
After being introduced by his sister Maggie, Jake Gyllenhaal and Kirsten Dunst became Hollywood's hottest young couple in 2002, and were soon being spotted all over LA looking blissfully loved-up. A year into their romance, Kirsten made it very clear just how happy she was, thanking her beau for her real-life best kiss as she collected the best on-screen kiss prize at the MTV Movie Awards.

Kristen Stewart and Michael Angarano
When: 2006-2009
Robert Pattinson wasn't Kristen Stewart's first Hollywood boyfriend - actor Michael Angarano dated the Twilight leading lady after the pair starred together in movie, Speak. As Kristen's status soared after landing the role that would define her career to date - Bella Swan - so the relationship fizzled.

George Clooney and Lisa Snowdon
When: 2000
It's the stuff dreams are made of - the Brit TV presenter meets Hollywood Prince Charming and is soon being whisked around the world, to the hottest premieres and parties. This was the case for Lisa Snowdon, who dated the gorgeous George for a year in 2000. Sadly, their fairytale came to an end before the year 2000 was out...

Drew Barrymore and Luke Wilson
When: 1996-1999
Fresh from her two-month marriage to bar-owner Jeremy Thomas, Drew Barrymore embarked on her first ever public Hollywood romance with actor Luke Wilson. The pair starred in two unmemorable movies together while dating - Best Men and Home Fries - but called it quite in 1999.


Demi Moore and Emilo Estevez
When: 1984-1987
The king and queen of the Eighties Brat Pack, Demi Moore and Emilo Estevez starred in the decade's cult flick, St. Elmo's Fire, which catapulted them both into superstardom. Although they were engaged for two years of their relationship, the pair never made it down the aisle. Just a year later, Demi married Bruce Willis.

Kelly Preston and George Clooney
When: 1987-1989
John Travolta hasn't been the only A-list man in Kelly Preston's life - before marrying the actor in 1991, she enjoyed a two year romance with then TV star, George Clooney.


Owen Wilson and Sheryl Crow
When: 1998-2002
Music star Sheryl Crow made her acting debut in 1998's The Minus Man, and met a new man in the process! She fell for co-star Owen Wilson and dated the actor for four years.

Juliette Lewis and Brad Pitt
When: 1989-1993
They may be Hollywood superstars now, but when Brad Pitt and Juliette Lewis hooked-up in 1989 it was after meeting on the set of a TV movie, Too Young to Die. She was just 16, while 26-year-old Brad was just starting to hit the big time, bagging his first breakthrough movie role in Thelma and Louise in 1991. In 1993, they co-starred as serial killers in Kalifornia, but ended their relationship soon after.

Penelope Cruz and Tom Cruise
When: 2001-2004
Looking back now, it seems like Tom Cruise and Penelope Cruz were together for merely a Hollywood minute, between the end of his marriage to Nicole Kidman and his current wife, Katie Holmes. In fact, the pair were together three years after meeting on the set of movie Vanilla Sky, just months after Cruise announced his split from Kidman.

Isla Fisher and Darren Day
When: 1998-2002
Long before Isla Fisher coupled-up with her Borat beau, Sacha Baron Cohen, she hooked-up with small screen star Darren Day and even became engaged to him at the tender age of 23.

Matt Damon and Minnie Driver
When: 1997-1998
One of Hollywood's most notorious break-ups, Matt Damon and Minnie Driver first met and started dating on the set of Good Will Hunting, but a the relationship quickly went downhill. During an appearance on Oprah in January 1998, Damon stated the romance was over, telling the talk show host: 'I care about her a lot. We kind of decided it wasn't meant to be.' But Driver claimed it was the first she'd heard about it...! She later called the break-up, 'fantastically inappropriate', while Matt quickly moved on to another A-list love, Winona Ryder.

Winona Ryder and Johnny Depp
When: 1989-1993
The relationship that spawned one of the most famous celebrity tattoos of all time, Johnny Depp was so dedicated to Winona Ryder during their three year relationship that he had Winona Forever etched upper arm. The couple met and started dating on the set of Tim Burton's Edward Scissorhands and became engaged in 1990. Once the romance ended, so did the tattoo and Depp had it amended to read Wino Forever.



joaquin-liv-90s-P.jpg
Celebrity news, beauty, fashion advice, and fascinating features, delivered straight to your inbox!
The leading destination for fashion, beauty, shopping and finger-on-the-pulse views on the latest issues. Marie Claire's travel content helps you delight in discovering new destinations around the globe, offering a unique – and sometimes unchartered – travel experience. From new hotel openings to the destinations tipped to take over our travel calendars, this iconic name has it covered.