UBS removes the sexiness from the city
It's bad news for fans of figure-hugging skirts and lacy bras, as employees at Swiss bank UBS are expected to adhere to a new set of appropriate dress guidelines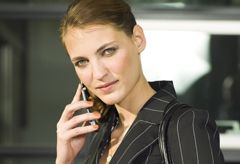 (Image credit: Rex Features)
It's bad news for fans of figure-hugging skirts and lacy bras, as employees at Swiss bank UBS are expected to adhere to a new set of appropriate dress guidelines
Staff at one of the world's top investment banks have been issued a comprehensive 43-page dress code guide, specifying what they can and can't wear in the office, down to the very last detail.
The guidance from Swiss firm UBS warns women that flashy jewellery, artificial nails and visible roots are unacceptable, and do not give an impression of professionalism.
'Underwear must not be visible against clothing or spilling out of clothing. Rather it should be flesh-coloured under white shirts,' the guidelines state.
'Women should not wear shoes that are too tight-fitting as there is nothing worse than a strained smile.'
The move is part of a bid to rebuild the image of UBS, after it received a multi-billion dollar bailout in the wake of the global financial crisis.
In a statement, the bank said: 'The reputation of UBS makes up our most precious asset so adopting irreproachable behaviour implies having an impeccable presentation.'
The dress code guidelines also affect male employees, who are urged not to attempt to wash or iron their own shirts and asked to give their tie at least one rest day between wear. The rules also state that a watch should be worn to suggest reliability and punctuality is of great concern.
Employees of both sexes are also advised to 'avoid smelling of strong scent, garlic, onion and cigarette smoke.'
What are your thoughts on these new dress code rules? Do you think they ae too intruding? Or should other businesses also consider revising their rules to improve employee appearance at work? Let us know in the comments box below.
Celebrity news, beauty, fashion advice, and fascinating features, delivered straight to your inbox!