Death toll could reach 400 in Christchurch
As the earthquake devastation unfolds in New Zealand, Prime Minister John Keys warns that the country's final death toll could be higher than originally feared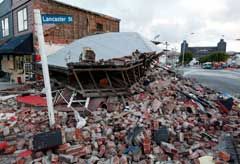 (Image credit: Rex Features)
As the earthquake devastation unfolds in New Zealand, Prime Minister John Keys warns that the country's final death toll could be higher than originally feared
The death toll in the aftermath of New Zealand's worst disaster in 80 years reached 98 today, with an additional 226 people still missing.
The 6.3 magnitude earthquake, which struck at 12.51pm on Tuesday afternoon, destroyed entire buildings and caused devastating damage in the city of Christchurch. Police believe up to 120 bodies may still lie trapped in the rubble of the Canterbury Television building.
'We are very fearful today that the death toll could be much greater than any of us have ever feared,' said Mr. Keys, adding that dozens of international people caught up in this 'tremendous tragedy'.
Rescue efforts have so far focused on major office complexes that crumbled in the city centre, but the recovery of bodies has now taken priority, while rescue teams have fanned out further afield. Hopes of finding people alive are diminishing as no new survivors have been found since Wednesday.
The human cost of the natural disaster was illustrated as the family of Donna Manning, a morning TV presenter trapped inside the demolished Canterbury Television building, was told there was no hope that she could have survived.
Yesterday, Mr. Keys declared a national emergency, with insurance losses of up to $12billion. Authorities have imposed a curfew of 6.30pm as the country tries to cope in the aftermath of destruction.
Hundreds of troops, police and emergency workers searched the ruins as more than 100 aftershocks threatened further collapse. A Briton and an Irishman are believed to be among the dead.
Celebrity news, beauty, fashion advice, and fascinating features, delivered straight to your inbox!