Adoption crisis: Only 60 babies adopted in UK last year
The number of babies adopted in the UK is at a record low according to shocking new figures from the Department for Education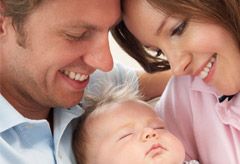 (Image credit: Rex Features)
The number of babies adopted in the UK is at a record low according to shocking new figures from the Department for Education
The number of babies adopted in the UK is at a record low according to shocking new figures from the Department for Education.
Statistics show a sharp decline, year on year, in the number of babies adopted, down from 150 in 2007 and 4,000 in 1976.
Despite a sharp rise in the number of children in care, the number of babies adopted in England fell to just 60 in 2010.
The total number of adoptions continues to fall with the number of ethnic minority children adopted at just four per cent of the total number of children.
This drop comes despite the fact that there are 65,520 children in care—the highest number since 1987—with 3,660 of them under a year old.
Children's minister Tom Loughton says: 'Today's statistics are a timely reminder that we must redouble our efforts to do better for children in care. It's worrying that the number of adoptions has continued to decline, and it's simply not good enough for vulnerable children to be waiting well over two years to be adopted.'
Ministers have issued new guidance to streamline the process and stop councils from delaying mixed-race adoptions.
Anne Marie Carie, chief executive of Barnardo's said: 'An increase in care numbers coupled with another consecutive drop in adoption rates and of children being placed for adoption is deeply worrying.'
She went on to stress that those involved in the care system need to be braver and should 'act fast' to place children with a new permanent family when it is clear that the child's birth family is not going to change and cannot cope.
'Successful adoptions not only transform the life of the child for the better, but also that of their new family,' she added.
What are your views on adoption?
Would you consider adopting?
Let us know your own experiences of adoption below.
Celebrity news, beauty, fashion advice, and fascinating features, delivered straight to your inbox!