29 still missing in Concordia disaster
As hope of finding survivors fades, rescue crews blast holes in the stricken ship to gain easier access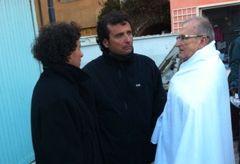 (Image credit: REX)
As hope of finding survivors fades, rescue crews blast holes in the stricken ship to gain easier access
Six people have died and 29 are still missing after the Costa Concordia hit rocks off the Tuscan Coast on Friday.
Italian costguard officials say the toll of missing people includes four crew members and passengers from the US, Germany, France and Italy.
At daybreak this morning, rescue crews blew holes in the underside of the ship, now lying on it's side metres from the Giglio island, in order to gain access in their continued search for survivors.
Rodolfo Raiteri, head of the coast guard's diving team, says the conditions inside the vessel are disasterous. 'The corridors are cluttered and it's hard for the divers to swim through.'
The captain of the 4,200 passanger ship, Francesco Schettino, has been detained on suspicion of manslaughter and accused of abandoning his vessel before all the passengers had been evacuated.
According to transcripts of a conversation between himself and the local coastguard, Mr Schettino abandoned the ship and hundreds of helpless passengers. He then ignored orders to return to the ship to coordinate the evacuation.
Coastguards say the captain failed to give cruicial instructions until more than an hour after the ship hit the rocks, wasting valuable time and contributing to the loss of six lives.
Mr Schettino, who faces 12 years in jail for manslaughter, will appear in court today after his company chiefs accused him of an unauthorised and unapproved decision to sail close to the eastern side of the island of Giglio.
Italy has declared a state of emergency over the incident and will provide funding to help alert any environmental disaster.
Celebrity news, beauty, fashion advice, and fascinating features, delivered straight to your inbox!