Cameron launches attack on booze Britain
The Prime Minister will announce new tactics to deal with Britain's drinking culture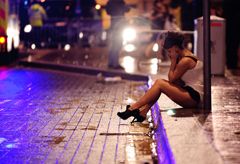 (Image credit: REX)
The Prime Minister will announce new tactics to deal with Britain's drinking culture
In an innovative move to tackle Britain's growing alcohol problem, which costs the NHS more than £2.7 billion a year, David Cameron will today announce a radical new tactic to stamp down on binge drinking.
Among the Government's solutions, Mr Cameron will suuggest US-inspired drunk tanks, more police on patrol in A&E departments, and booze buses staffed with paramedics who help intoxicated revellers.
These drunk tanks, popular in America, are prisons where inebriated people are detained overnight until they soberup, avoiding the need for them to be formally arrested.
Mr Cameron will say that responsible drinking must become a reality as he unveils curbs onexcessiveconsumption of alcohol.
'Every night, in town centres, hospitals and police stations across the country, people have to cope with the consequences of alcohol abuse,' says the Prime Minister.
'Over the last decade we've seen frightening growth in the number of people who think it's acceptable for people to get drunk in public in ways that wreck lives, spread fear and increase crime.'
Last year, there were 200,000 hospital admissionscaused primarily by alcohol - that's a 40 per cent rise over the past decade.
Share your views on British binge drinking culture by posting a comment below.
Celebrity news, beauty, fashion advice, and fascinating features, delivered straight to your inbox!