Stars Take Us Behind The Scenes At The PCAs
The People Choice Awards look very different from the inside... Take a look at the stars' behind the scenes snaps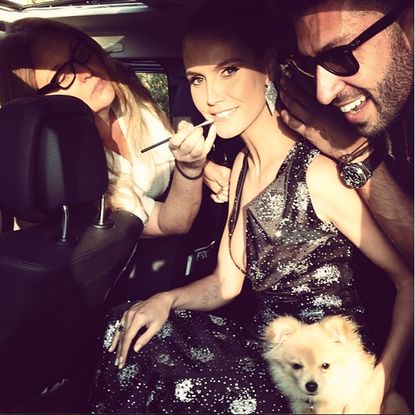 (Image credit: Instagram)
The People Choice Awards look very different from the inside... Take a look at the stars' behind the scenes snaps
The People's Choice Awards 2014 tell a very different story from the inside. Though they may have looked poised and picture-ready for the red carpet camerast, the A-list were sharing their own intimate view of the night of Instagram. And we were nothing short of intrigued...
From close-ups of gorgeous sparkling jewellery, to some of the most glamorous selfies we've ever seen, all the best PCA action was going on off the red carpet.
Heidi Klum On The Way To The PCAs
Heidi Klum had all hands on deck to get her red-carpet ready for the 2014 People's Choice Awards, with even her pup in tow.
Nina Dobrev Takes A Fan Selfie
Nina Dobrev delivers one lucky fan the ultimate selfie as she gets stuck in with the crowds outside the People's Choice Awards.

Malin Akerman And Bailee Madison Show Off Teethy Grins In The Audience
Co-stars on Trophy Wife, Malin Akerman and Bailee Madison get snap happy in the audience during the show - what would we do without iPhones?

Justin Timberlake Wins 3 PCAs And Celebrates In Style
Justin Timberlake showed us where the real after party was at when he shared this snap of a fast food restaurant's celebrations of his three PCAs. This guy knows how to party.

Jennifer Hudson Brings Her Family To The PCAs
Jennifer Hudson looked svelete in a white dress as she cosied up to family backstage at the People's Choice Awards.

The PCA Place Cards Mark The Seating Plan
And now we know their secret... The People's Choice Awards tweeted this snap of their picture-labelled seating plan, awash with famous faces. Can we sit next to Sandra Bullock please?

Naya Rivera Says Glee Has The BEST Fans In The World
Naya Rivera felt the love with the eager Glee fans outside the PCAs as she debuted a new blonde 'do.

Nina Dobrev and Ian Somerhalder High Five Backstage
Nina Dobrev and Ian Somerhalder share an old fashioned high-five moment as they come off stage from collecting their 'Best On-Screen Chemisty' award. Now that's love.

Britney Spears Wins Favourite Pop Artist
Britney Spears was grinning from ear to ear as she clutched her 'Favourite Pop Act' award. Brit will always be our favourite pop babe.

Jessica Alba And Justin Timberlake Compare Awards Backstage
Jessica Alba and Justin Timberlake mess around backstage as they share an off-screen moment.

Beth Behrs Gets Ready For The PCAs
One part of the PCAs presenting duo Beth Behrs is preened for the show with her sneaky hairdresser sharing this intimate snap.

Heidi Klum Instagrams Her Diamond Earrings
Heidi Klum proves diamonds are definitely a girl's best friend when they're this big...

A View Of The PCAs from Press Room
This is what the stars saw at the red carpet photocall, so that 'deer caught in headlines' look is totally something you have to shake off fast.

Kaley Cuoco Shares A Snap Of Her Lucky Charm, 'Loretta The Dog'
Kaley Cuoco proves that lucky charms like 'Loretta The Dog' do work wonders as she heads to the awards to collect a PCA of her own.

Jennifer Hudson Shares Her Snapshot Of The Evening
Jennifer Hudson shared her own snapshot of the night from red carpet to backstage cuddles. This is what you didn't see...

Malin Akerman On The Way To The People's Choice Awards
Malin Akerman is prepped and preened for the People's Choice Awards as she indulges in the ultimate 'I'm on my way to the...' selfie.

Kaley Cuoco Tweets A Thank You And Congrats To The Big Bang Theory
Kaley Cuoco shows just how much she loves her shiny new award, taking to Twitter to thank fans of The Big Bang Theory.

Nina Dobrev Instagrams Her Award
Nina Dobrev needed only the best matte nails to share this typical awards selfie. Two birds with one stone...

Kaley Cuoco Shares A Snap With New Husband
We've seen a lot of loved up couple Kaley Cuoco and her new husband since their recent fairytale wedding pics and now it seems he's even cute enough to support her backstage. Aw.

Lucy Hale Flashes Her PCA Award
Lucy Hale shares the obligatory proud award face as she holds up her new favourite mantlepiece decor.

Paris Hilton Gets Ready In The Bathroom
Paris Hilton has got more in common with us than we thought - she also knows bathrooms are the best place for a selfie.

Zac Efron Widens His Bright Blue Eyes For A Selfie
Zac Efron looks back on top form as he puts for the camera post-PCAs.

Ian Somerhalder Takes The Ultimate Winner's Selfie
Ian Somerhalder tries the one-arm selfie for a classic Instagram snap backstage.

Jessica Alba Shows Off Her Jewellery And Green Nails
Jessica Alba gives us a little insight into her accessories choice as she shares close-up snaps of her green nails and delicate hand jewellery.

Jessica Alba Instagrams 'Pop Icon' Pic Of Britney Spears
Jessica Alba is in awe of 'Pop Icon' Britney Spears as she shares Britney's acceptance speech on Instagram.

Heidi Klum Congratulates Britney Spears On Her Award Via Twitter
Heidi Klum joins Jessica Alba in congratulating pop babe Britney by posting a snap of the pair on the night.

Kaley Cuoco Shares A Snap Of Her BBT Cast
Kaley Cuoco manages to round up the whole Big Bang Theory for a cast picture, while the team celebrate their PCA.

Naya Rivera Calls Herself A Michael Kors Girl
We may have seen the photographers' Naya Rivera picture but we love a straight to camera sultry look from Naya Rivera.

Bailee Madison Shares A Vine Of Her Red Carpet Interviews
Bailee Madison shows she's down with the kids taking her social media sharing to the next level with a Vine of the red carpet scene in 360 degrees.

Host Kat Dennings Says Goodnight From The PCAs
Host Kat Dennings sends her Instagram followers off to sleep with a 'Good night' picture of the star getting ready to celebrate, post-PCA.

Celebrity news, beauty, fashion advice, and fascinating features, delivered straight to your inbox!