Women spend £500 after being dumped
It's not just our hearts that suffer after a break up, it's also our bank balance - women splash out £500 on their image to make themselves feel better after a split according to new statistics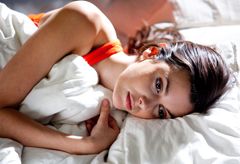 (Image credit: REX)
It's not just our hearts that suffer after a break up, it's also our bank balance - women splash out £500 on their image to make themselves feel better after a split according to new statistics
It's not just our hearts that suffer after a break up, it's also our bank balance - women splash out £500 on their image to make themselves feel better after a split according to new statistics.
The price of rejection is £500 according to a new study which claims women spend a small fortune on their appearance to boost their mood after being dumped.
Researchers found that women react to heartbreak by hitting the shops and splashing out on new haircuts, highlights and a new wardrobe to make themselves feel better.
New shoes are top of the list along with gym memberships, spray tans, make-up and manicures.
'Being dumped, whether it was on the cards or not, will make even the toughest woman feel awful,' says Simon Comins from Superdrug, the retailers who conducted the retailers.
'Women start to question what went wrong with the relationship and feel self-conscious about their looks. So indulging in a new hair-do, a change of hair colour, bronzed skin and a new wardrobe can be just the tonic.'
More than half of women polled admitted to completely re-vamping their appearance after a partner left them feeling unwanted and 75 per cent say the reinvention was worth every penny helping them to rebuild their confidence.
But the spending doesn't stop there. Comins says: 'Life as a single person is far more expensive so as well as spending more on your appearance, you automatically spend more on socialising.'
The average single female spends £70 a week on socialising with friends and 11 per cent pay around £47 for subscriptions to dating websites to help them get 'back in the game'.
The survey also found that six per cent of heartbroken women turn to cosmetic surgery to help them feel sexy again.
Would you? Could you? Have you? Let us in on your break up splurges in the box below.
Celebrity news, beauty, fashion advice, and fascinating features, delivered straight to your inbox!