Women seduced into debt by loan companies
More women than ever before are being targeted to take out loans with sky high interest rates of up to 16,000 per cent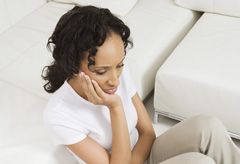 (Image credit: REX)
More women than ever before are being targeted to take out loans with sky high interest rates of up to 16,000 per cent
The recession and tougher rules on borrowing money from banks has caused payday loan companies to spring up across the UK offering instant cash with dangerously high interest rates of us to 16,000 per cent.
And worryingly it's working women who are flocking to borrow quick cash as we start to feel the pinch.
Loan companies such as Wonga and Quickquid have spent millions advertising in coveted spots during programmes such as Glee and Friends.
Other firms have set up sites that target women, giving the impression that taking out a loan is 'socially acceptable'. These 'lunchtime' loans allow you to borrow up to £1,500 in minutes with no questions asked.
Labour MP and anti-debt campaigner Stella Creasy says women are falling prey to these firms: 'Because they are working and have a regular income they are able to pay back at least some of the loan. But if they can't make a payment they make money for the firm through paying penalties and extensions.'
A report by accountancy firm RSM Tenon shows many women are drowning in debt, making up 49 per cent of all insolvencies last year.
Creasy is calling on the government to tighten up the rules around these firms, to ensure interest rates are capped, and to promote cheaper forms of borrowing for the financially vulnerable.
Celebrity news, beauty, fashion advice, and fascinating features, delivered straight to your inbox!