Women prefer a man who can do DIY over good sex
A new poll claims women would rather have a man who can put up shelves than one who's good between the sheets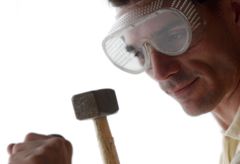 (Image credit: REX)
A new poll claims women would rather have a man who can put up shelves than one who's good between the sheets
A poll by LocalTraders.com found 93 per cent of women questioned consider having a man who is DIY savvy is a bonus, especially when it comes to long-term relationships.
80 per cent of the 400 women polled say they would be disappointed if a man didn't know how to carry out basic DIY tasks such as putting up shelves and wallpapering.
'Many people believe a strong connection in the bedroom is the key to a long and successful relationship but for some women this doesn't seem to be the case,' says a spokesman for LocalTraders.com.
'We all want to live in well maintained homes and it seems a small proportion of women value this above a good sex life.'
The poll found that 12 per cent of women say they would prefer their man to be good at DIY to being good between the sheets.
But a love of household maintenance can sometimes go too far with 20 per cent of women claiming their partner spending more time working on the house than on their relationship.
'The key to a long-lasting relationship is to satisfy each other's needs and our results show that for some women this can be done through something small such as repainting a wall rather than spending a passionate night in together,' says the spokesman.
Do you agree? Is DIY more important than sex? Let Marie Claire know your thoughts by posting a comment below.
Celebrity news, beauty, fashion advice, and fascinating features, delivered straight to your inbox!