Women account for up to 50 per cent of bankruptcies
A generation of young women are making up almost half of all Briton's plunged into insolvency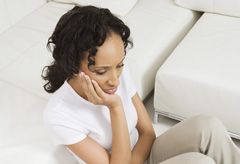 (Image credit: REX)
A generation of young women are making up almost half of all Briton's plunged into insolvency
Bankruptcy among women under 35 is soaring, according to a report released yesterday.
Figures suggest women now account for nearly 50 per cent of all insolvencies in Britain for the first time in history, with the real-time number of unemployed women growing by 500 a day.
Experts say they fear the findings prove that women have paid the biggest price for the recession, with hundreds and thousands losing their jobs. Many of those who remain in employment have been forced into part-time work.
The rise is being driven by young women in financial difficulty, with 18 to 25 year-olds making up 65 per cent of insolvencies and 26 to 35 year-olds accounting for 54 per cent.
Mark Sands, head of personal insolvency at RSM Tenon, which carried out the research, says women are struggling more than ever against the bleak economic climate, with many burying their heads in the sand during the recession.
'Women used to only become insolvent as a result of a major life event, such as marriage breakdown or ill health,' says Una Farrell, from the Consumer Credit Councelling Service.
'Now household budget pressures such as inflation, welfare benefit changes, wage freezes and reduced working hours are pushing them into bankruptcy.'
Celebrity news, beauty, fashion advice, and fascinating features, delivered straight to your inbox!