Women bear the brunt of job losses
32,000 women have become unemployed in the last three months compared to only 16,000 men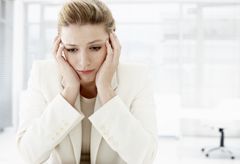 (Image credit: REX)
32,000 women have become unemployed in the last three months compared to only 16,000 men
Twice as many women than men are losing their jobs as the economy continues to struggle, according to official figures revealed yesterday.
The Office of National Statistics suggests 32,000 women lost their jobs between October and December, compared to half as many men.
The number of unemployed women has now hit its highest level since 1987, with older women among the biggest losers from the jobs market crisis.
Last night, Labour's shadow minister for women, Yvette Cooper, accused the Coalition government of having a blind spot on women and urged ministers to change tack.
'More women are being forced out of work and back into the home by a combination of cuts to jobs and childcare,' she said.
Nearly six unemployed are chasing every one job vacancy, with one in three unemployed out of a job for more than 12 months.
Anna Bird, acting chief executive of the Fawcett Society, says the rise of women's unemployment is turning back time on equality. 'These figures must act as a wake-up call to Government - we are in a time of crisis.
'Cuts are threatening women's equality as jobs dry up, benefits are slashed and vital public services disappear.'
Have your say by posting a comment in the box below
Celebrity news, beauty, fashion advice, and fascinating features, delivered straight to your inbox!