Osborne considers alcohol tax rise to curb binge-drinking
The Treasury has published plans for taxation reforms in a bid to tackle alcohol abuse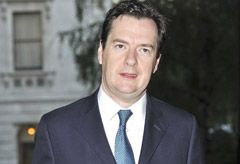 (Image credit: Rex Features)
The Treasury has published plans for taxation reforms in a bid to tackle alcohol abuse
Chancellor George Osborne has warned taxes on alcohol could rise in an effort to stop binge drinking blighting towns and cities.
In the Treasury's business plan, Osborne ordered his officials to complete a review in time for the Budget in March next year.
The review aims 'to tackle problem drinking without unfairly penalising pubs, responsible drinkers and local industry.'
All departments were laying out their business plans yesterday in a move heralded by David Cameron as a radical shift in government.
Speaking at the launch of the business plans at the Foreign Office, the Prime Minister presented the taxation reforms as an alternative to Labour's culture of targets.
'We are turning that on it's head,' he said. 'Instead of bureaucratic accountability to the government machine, these business plans bring in a new system of democratic accountability to the people.'
The review stands to consider the rates and structure of duty on different drinks, the differential between duty rates on low and high-strength drinks and the interaction between tax and price.
Mr. Cameron rejected claims that scrapping targets will lead to a decline in standards and that he was merely reinstating a target regime under a different name.
Cameron concluded: 'We are shining a bright light of transparency on everything government does. Each business plan sets out the information we will publish so that people can hold us to account.'
Celebrity news, beauty, fashion advice, and fascinating features, delivered straight to your inbox!